Sex Charges Dropped Against French Politician Dominique Strauss-Kahn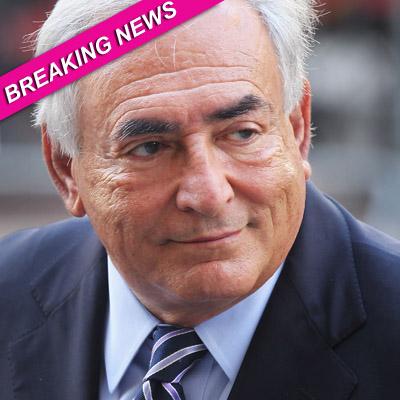 New York State Supreme Court Justice Michael Obus Tuesday issued an order to drop all of the sex charges against French politician Dominique Strauss-Kahn, pending an appeal on behalf of the French politician's accuser.
Strauss-Kahn, 62, was accused of sexually assaulting a maid at the Sofitel hotel in Manhattan on May 14, although his accuser's credibility was called into question to the point prosecutors said they couldn't convince a jury to believer her testimony.
Article continues below advertisement
Obus said he wouldn't fully dismiss the case until a ruling of an appeal of his decision to not appoint a special prosecutor to the case was issued. (The decision was expected to come down late Tuesday).
The decision to dismiss was cemented after attorneys from the camp of Strauss-Kahn's accuser -- a 33-year-old maid named Nafissatou Diallo, from the West African nation of Guinea -- tried in vain to get lawyers from the District Attorney's office disqualified from the controversial case.
They had hoped to get Judge Obus to appoint a special prosecutor instead, with no luck.
"In light of the circumstances of this case, the Court concludes that nothing called to its attention establishes disqualification or warrants removal of the elected District Attorney of this county," Obus wrote in his ruling on the matter.
The fate of the complicated case became clearer in recent weeks, as the District Attorney's office became more skeptical of Diallo's story, basing their views on her credibility and the evidence provided in the incident.
Article continues below advertisement
Prosecutors said the DNA evidence only indicated a sexual act, "but it does not independently establish her claim of a forcible, nonconsensual encounter."
They also took jabs at her credibility, writing, "After an extensive investigation, it is clear that proof of two critical elements - force and lack of consent - would rest solely on the testimony of the complaining witness at trial.
"The case rises and falls on her testimony. The nature and number of the complainant's falsehoods leave us unable to credit her version of events beyond a reasonable doubt. If we do not believe her beyond a reasonable doubt, we cannot ask a jury to do so."
Diallo's attorneys, Kenneth Thompson and Douglas Wigdor, took jabs at District Attorney Cy Vance Jr. for his actions, or lack thereof.
"If the Manhattan district attorney, who is elected to protect our mothers, our daughters, our sisters, our wives, our loved ones, is not going to stand up for them when they are raped or sexually assaulted, then who will?" Thompson said.
Strauss-Kahn arrived to the court in a six-car motorcade with throngs of protesters outside awaiting his arrival, carrying signs that read, "DSK treats women like property" and "Put the rapist on trial - not the victim."
Article continues below advertisement