BREAKING NEWS: Dominique Strauss-Kahn Released From Jail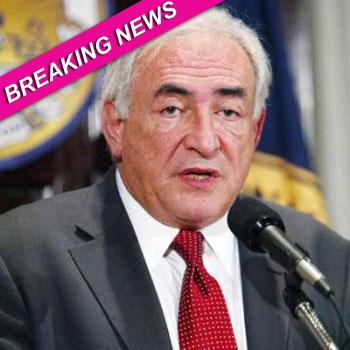 French politician Dominique Strauss-Kahn was let out of New York's Rikers Island jail on Friday, a day after a Manhattan court granted the accused sex offender a release on $1 million bail and a $5 million bond.
Under the terms New York Supreme Court Justice Michael J. Obus laid out in his ruling Thursday, Strauss-Kahn will be allowed to stay at the New York home of his daughter Camille on house arrest; he will wear an electronic monitoring device and an armed guard will be on hand at all times.
Article continues below advertisement
PHOTO: Dominique Strass-Kahn Resigns From IMF; See His Mug Shot
Prosecutors arguing against Strauss-Kahn's release cited the case of Roman Polanski, the Oscar-winning director who jumped his bail in 1977.
Following the decision, Strauss-Kahn's lawyer William W. Taylor said his client's release will be "a great relief for the family," and that Strauss-Kahn's mindset is "much better now than before we started."
Strauss-Kahn, 62, was kept in protective custody and on a suicide watch during his week at the grisly jail facility.
VIDEO: French Pol Accused Of Sexually Assaulting NY Hotel Maid
He's accused of sexually assaulting a maid at the Sofitel hotel last week; as previously reported, here's how the alleged incident went down:
The maid claimed she went into Strauss-Kahn's $3,000-a-night room Saturday afternoon, thinking it was vacant so she could clean, according to New York Police Department spokesman Paul J. Browne. She told police that Strauss-Kahn burst out of the bathroom naked, chased her and pulled her into a room, where he forced her to perform a sex act on him and tried to take off her underwear.
Article continues below advertisement
The maid, who hails from the West African nation of Guinea, said she broke free and told her hotel co-workers. Strauss-Kahn quickly left the hotel, but left his cell phone on the premises, police said.
Strauss-Kahn, a married father-of-four, was arrested Saturday as he tried to return to his homeland on an Air France flight at John F. Kennedy International Airport. While in custody at a Harlem precinct, police said his accuser identified him out of a lineup.
Lawyer: DNA Test Performed On Son Of Woman Linked To Arnold
"The proof against him is substantial," Manhattan assistant district attorney John "Artie" McConnell said in the hearing on Thursday. "It is continuing to grow every day as the investigation continues."
In a letter issued Wednesday, the embattled Strauss-Kahn resigned from his position as the head of the International Monetary Fund, the organization that oversees global financial policy.
Article continues below advertisement
Jesse James Says Sandra Bullock Was A Predictable Wife
"It is with infinite sadness that I feel compelled today to present to the executive board my resignation from my post of managing director of the IMF," Strauss-Kahn said. "To all, I want to say that I deny with the greatest possible firmness all of the allegations that have been made against me... I want to devote all my strength, all my time and all my energy to proving my innocence."
Strauss-Kahn is called DSK in French press, and has been given the nickname "The Great Seducer" for his well-documented way with the ladies. Until the recent incident, French media had tabbed the Socialist as a strong opponent to current President Nicolas Sarkozy in the country's presidential election next year.
Stay with RadarOnline.com for more on this story as it breaks.