Maid Breaks Silence About DSK Attack: 'I Want Him To Go To Jail'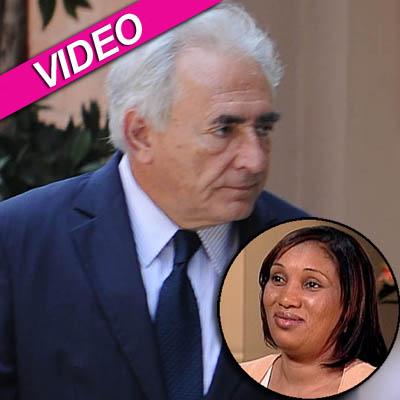 By Adam S. Levy - RadarOnline.com Staff Writer
Nafissatou Diallo, the maid who claims ex- International Monetary Fund leader Dominique Strauss-Kahn sexually assaulted her at New York's Sofitel hotel May 14, told ABC News Monday she wants "justice" in the form of seeing "him to go to jail."
Diallo, a 32-year-old Guinean immigrant, described the incident to ABC's Robin Roberts in her first public appearance since making the accusations.
Article continues below advertisement
"I turned my head, he comes to me, and grabs my breasts," Diallo told Roberts of the encounter in Strauss-Kahn's $3,000-a-night hotel suite. "Strauss-Kahn says, 'No, you don't have to be sorry' ...
"I said, 'Stop! Stop! I don't want to lose my job,'" Diallo told Roberts. "He kept pushing me, pushing me ... I was so afraid, I was so scared."
Diallo said she became worried when she was watching the news "and then they say he's going to be the next president of France.
"And I say, oh my God! And I was crying," Diallo said. "I said, 'They're gonna kill me before someone knows what happened to me.'"
Watch the video on RadarOnline.com
Diallo said she jumped to such conclusions based on her experiences in her home country -- the West African nation of Guinea -- and the deep-reaching influence the rich and powerful hold there.
"I want justice. I want him to go to jail," Diallo, who said she plans on filing a civil suit against the French banker, said. "I want him to know that there is some places you cannot use your money, you cannot use your power when you do something like this.
Article continues below advertisement
"God is my witness I'm telling the truth," Diallo, who also gave an in-depth interview to Newsweek magazine, told Roberts. "From my heart.
"God knows that. And he knows that."
After Strauss-Kahn's legal team called Diallo's credibility into serious question with authorities, he was released from house arrest without bail following a July 1 hearing. The charges against him will still stand; his passport was not given back, though he is free to travel within the United States.