Dominique Strauss-Kahn Pleads Not Guilty To Sex Charges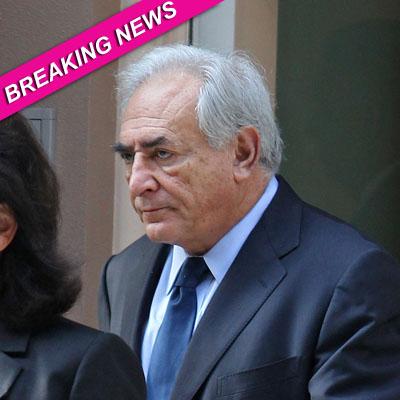 French politician Dominique Strauss-Kahn pleaded not guilty to charges of attempted rape, sex abuse, unlawful imprisonment and forcible touching in a hearing at the New York state Supreme Court in Manhattan on Monday.
Strauss-Kahn entered his plea while surrounded by his attorneys and his wife, celebrated journalist Anne Sinclair.
Strauss-Kahn, 62, is accused of sexually assaulting a maid at the Sofitel hotel May 14; as previously reported, here's how the alleged incident went down:
Article continues below advertisement
The maid claimed she went into Strauss-Kahn's $3,000-a-night room, thinking it was vacant so she could clean, according to police. She told police that Strauss-Kahn burst out of the bathroom naked, chased her and pulled her into a room, where he forced her to perform a sex act on him and tried to take off her underwear.
PHOTO: Dominique Strauss-Kahn's Mug Shot
The maid, who hails from the West African nation of Guinea, said she broke free and told her hotel co-workers. Strauss-Kahn quickly left the hotel, but left his cell phone on the premises, police said.
Strauss-Kahn, a married father-of-four, was arrested later that day as he tried to return to his homeland on an Air France flight at John F. Kennedy International Airport. While in custody at a Harlem precinct, police said his accuser picked him out of a lineup.
In a letter issued the following week, the embattled Strauss-Kahn resigned from his position as the head of the International Monetary Fund, the organization that oversees global financial policy.
Article continues below advertisement
"It is with infinite sadness that I feel compelled today to present to the executive board my resignation from my post of managing director of the IMF," Strauss-Kahn said. "To all, I want to say that I deny with the greatest possible firmness all of the allegations that have been made against me ... I want to devote all my strength, all my time and all my energy to proving my innocence."
Strauss-Kahn is called DSK in French press, and has been given the nickname "The Great Seducer" for his well-documented way with the ladies. Until the recent incident, French media had tabbed the Socialist as a strong opponent to current President Nicolas Sarkozy in the country's presidential election next year.