'Mr Bean' Star Rowan Atkinson Crashes $1.2 Million Sports Car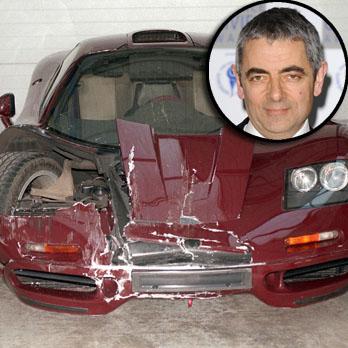 By Cliff Renfrew - RadarOnline.com Reporter
British actor Rowan Atkinson cheated death outside of London Thursday night after he crashed his $1.2 million McLaren F1 sports car.
The Mr. Bean star spun the maroon-colored supercar -- which can go up to 240 mph -- several times before hitting a tree and then a road sign.
His prized possession then caught fire before him near Haddon in Cambridgeshire, which is approximately 75 miles north of London.
Article continues below advertisement
EXCLUSIVE: Ryan O'Neal Visits Redmond Weekly In Rehab
Miraculously, the rubber-faced funnyman pulled himself out of the wreck without suffering any serious injuries.
Fireman who arrived on the scene put out the fire, while the 56-year-old actor was taken to a nearby hospital by paramedics for observation.
It is not the first time Atkinson has crashed the rare sports car which can hit speeds of 0-60 in under three seconds.
EXCLUSIVE: Judge Issues Redmond O'Neal Stern Warning
In 1999, he was involved in a crash after he struck another vehicle in Lancashire, England.
The star -- who is a personal friend of Prince Charles and attended the recent royal wedding between Kate And William -- owns an array of expensive cars.
The actor also has an Aston Martin Virage $200,000, a vintage Rolls Royce and a vintage Morris Traveller, which he regularly drives around the Oxfordshire village where he lives in a $1.6 million converted rectory.
Article continues below advertisement
He recently appeared on the British car show Top Gear where he was filmed racing around a race track beating the other celebrities by setting the fastest lap time.
Samantha Ronson Busted For DUI
A spokesman for East England Ambulance Service said: "A man has since been conveyed to hospital with minor injuries after the car he was driving left the road early on Thursday evening."
He's expected to make a full recovery.