Rihanna Sports Crazy & Colorful Knit Pants In Barbados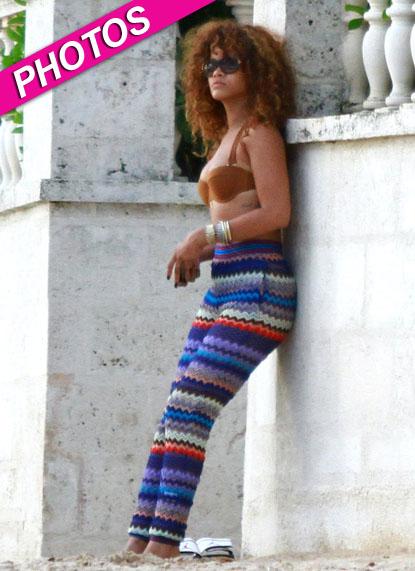 We're use to seeing Rihanna with wild hair and her sometimes outrageous fashion statements -- and fortunately, Monday was no exception!
The 23-year-old What's My Name singer sported a strange and very colourful pair of striped knit trousers as she chilled on the beach with friends in her native Barbados.
RiRi paired her colorful pants, thought to be by Missoni, with a tan bikini top and a pair of over sized brown sunglasses while letting her gorgeous hair down.
Article continues below advertisement
Rihanna looked smokin' hot as she simply relaxed on the beach, holding court and hanging with her peeps before heading back to her swanky hotel for a little R&R.
Rihanna has been enjoying an extended break from her hectic career in her home town.
Last week she tweeted: "BARBADOS!!!!!! My country is the BEST!!! Hands down! I love wunna."
RELATED STORIES:
Rihanna Falls for Her 'Dirty Dancer' And First Love Negus Sealy
MORE ON:
hollywood happenings