Rihanna Bares Bod In Barbados For Kadooment Day Parade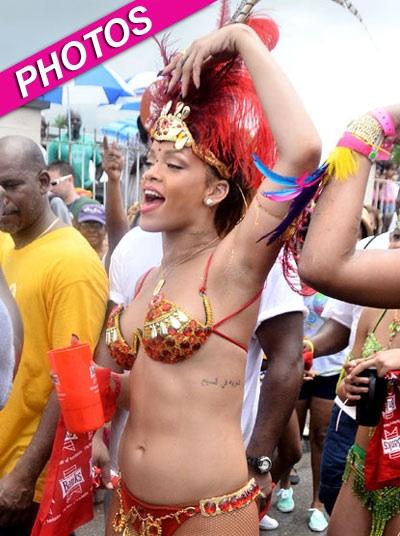 Excuse us while we catch our breath.
Rihanna was the ultimate hometown hottie in her native Barbados on Monday, where the 23-year-old pop star showed off nearly every luscious inch of her body in the annual Kadooment Day parade.
The hip-hop beauty, clad in a red, barely-there costume, showed off her flat tummy, mile-long legs, tiny tattoos and a tush that holds up from California to the Caribbean.
Article continues below advertisement
Kadooment Day, according to Barbados.org, "can be traced back to the 1780's, a time when Barbados was the world's largest producer of sugar. At the end of the sugar season, there was always a huge celebration to mark the culmination of another successful sugar cane harvest."
Barbados might not be the world's sugar leader anymore -- Brazil holds the title -- but thanks to the gorgeous pop star, they've got a claim to fame every bit as sweet.