Richard Branson: 'Kate Winslet Carried My Mom Out Of Burning Home'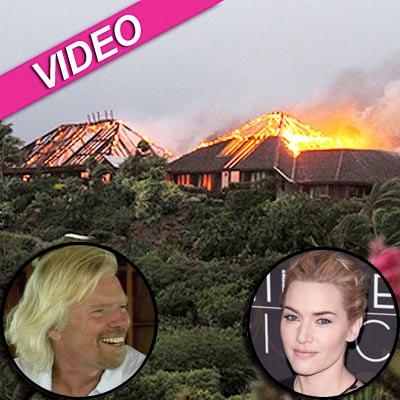 Sir Richard Branson continues to sing the praises of Oscar-winning actress Kate Winslet, who helped saved the life of his 90-year-old mother Eve when fire engulfed his $70 million mansion on his private island in the Caribbean early Monday.
"I was on the island," Branson told CBS News. "I was woken up with people screaming. I was in the house right next door to the Great House (about 10 yards away) and looked over, saw the whole house engulfed in flames, and just ran stark naked to the house to try to get people out. I had my daughter, my mother, lots of nephews and nieces. ... Obviously, the first priority was to rescue everybody, and fortunately, everybody got rescued."
Article continues below advertisement
Branson said: "My mother's 90 years old and, in order -- although she can walk -- in order to speed the process up, (Winslet) picked my mother up and carried her, carried her out of the house, and so Kate helped rescue my mother."
Winslet, 35, her daughter Mia, 10, and son Joe, 7, were among the 20 guests who was staying in Branson's fourteen-bedroom "Great House" on the luxurious resort in the British Virgin Islands when the fire broke out around 4:00 am Monday.
In a separate interview with The Telegraph, Branson said: "Talking to her (Winslet), she said it's like being in a film set where you're waiting for the words 'cut' but they just don't come. So it was quite surreal for her to be in a real-life situation."
Branson was staying with his wife, Joan and son, Sam, in one of the five smaller Balinese-style villas located near the main house.
The billionaire Brit's 29-year old daughter, Holly, (who was staying in the main house) was planning to marry on Necker Island this winter.
Article continues below advertisement
(Just last month, Nick Lachey and Vanessa Minnillo married there; in 2007, Jimmy Fallon tied the knot on the private island).
Despite the massive damage, Branson says he hopes his daughter's wedding can still be held at the private resort.
"We'll make sure that Necker Island is back and ready for her wedding, so we've got something to aim for at Christmas-time this year. ... Necker is our home ... and it will be a beautiful island again. We've just got to rebuild the Great House. Fortunately the rest of the island survived, and we'll make sure it was as beautiful as it was before."
The exact cause of the fire is under investigation, but it's believed the home was hit by lightning brought by Hurricane Irene. The home was destroyed, but fortunately, no one was injured -- a fact Branson noted.
New York Firefighters Release Tribute Album To Mark 9/11 Anniversary
"I have lost thousands of photographs and my notebooks, which is very sad. But all family and friends are well -- which, in the end, is all that really matters," the Virgin boss wrote in a blog post on his website.
Article continues below advertisement
Branson plans to stay on the island and rebuild the lavish house as soon as possible. "We have a wonderful staff here and we want them to stay in work. We'll all stay here. There's a lot of damage but we'll create something even more special out of the ruins," he wrote.
Branson has owned the private island since 1978.