PHOTOS: Kate Winslet Gets Sexy, Talks Chubby Childhood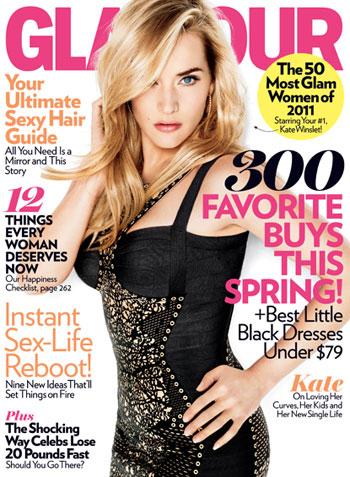 Kate Winslet has topped Glamour magazine's 50 Most Glam list for the third consecutive year in a row, and is featured on their April cover, which hits newsstands March 8th.
In the annual issue, whose 2011 list honors everyone from Kim Kardashian to Kate Middleton and Prince William, the Academy Award winning actress opens up about her overweight childhood, opinions on plastic surgery and what it is like to raise children in the limelight.
Article continues below advertisement
Kate, who is known for her gorgeous and womanly figure, admits to the fashion magazine that she was treated differently when she was a child because of her weight.
"I will tell you that when I was heavy, people would say to me, and it was such a backhanded compliment, they would say, 'You've got such a beautiful face,' in the way of, like, 'Oh, isn't it a shame that from the neck down you're questionable,' " Kate tells Glamour.
The actress, who insists that she has "never tried any of that stuff" when asked about plastic surgery, claims she loves her body just the way it is.
"I don't have parts of my body that I hate or would like to trade for somebody elses or wish I could surgically adjust into some fantasy versionof what they are."
The Brit beauty, who says she wasn't a high-achiever as a child, likens winning the Academy Award to "winning all the prizes in one single night that I never won as a kid.
Article continues below advertisement
"For me, it was an internal-fist-pumping moment of yes."
Kate, who is not only a critically acclaimed actress, but also a single mother of two, dishes on the difficulties raising kids in the public eye.
"The challenge is making sure that they're never treated different just because I sometimes am," she explains. "I always want them to be regular kids who are grateful and respectful of other human beings. I want them to know that when we fly first-class, that they are lucky."