REPORT: Real Housewife Taylor Armstrong Bruised & Battered in Photos After Fight With Russell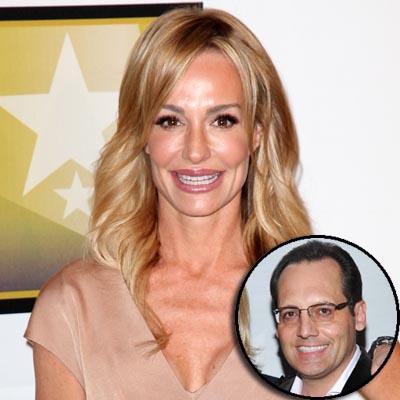 Real Housewives of Beverly Hills star Taylor Armstrong was reportedly photographed bloodied, bruised and with a deep gash stretching from her mouth to eye socket just before she filed for divorce from her then-estranged husband Russell Armstrong.
Entertainment Tonight broke the story Monday night that it had viewed images of the reality TV star that anchor Chris Jacobs described to viewers as "graphic." (RadarOnline.com has not seen the photographs).
Article continues below advertisement
"I've seen shocking photos of Taylor with a deeply bruised right eye and a terrible trauma that stretched from here (the mouth) to here (the eye socket)," Jacobs said.
Russell Armstrong's Mom Warns Bravo 'Better Not Air One Frame Of My Son — Or Else!'
"We are not ready to show them to you just yet, but I can tell you that it looks as though she was hit in the eye with tremendous force."
ET did not say if it planned to broadcast the photographs of a battered Taylor, 40.
But the show suggested the photos were snapped after a violent confrontation between Taylor and Russell, which required her hospitalization and cosmetic surgery, as RadarOnline.com first revealed.
"They're graphic photos of Taylor after she was seemingly beaten by Russell," Jacobs said.
"It's new evidence that Taylor may have beaten before she filed for divorce."
Russell Armstrong, 47, was found dead at a friend's home in Los Angeles on August 16, just a month after his six year marriage to Taylor collapsed. Officials say he committed suicide by hanging himself. A memorial service will be held for him on Wednesday.
MORE ON:
Brittny Gastineau
Article continues below advertisement
Brittny Gastineau, a close friend of Taylor, also spoke to Entertainment Tonight, revealing that the reality starlet was "devastated" after Russell's suicide.
"At the end of the day, even if he was abusive, she still loved him as the father of his child," Gastineau said, adding: "As much as you hate, hate someone for treating you like that, you still have love for them."
RELATED STORIES:
Bravo Delaying Housewives Premiere Following Russell Armstrong Suicide