Real Housewives of Beverly Hills Premiere Will Air As Planned, Bravo Confirms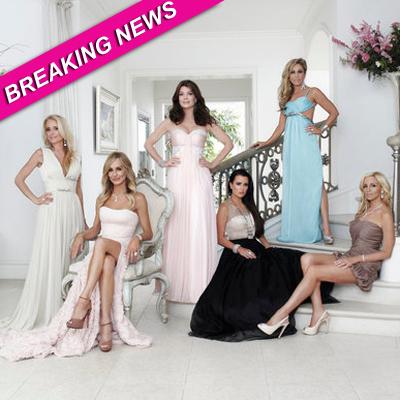 It's official. The second season of The Real Housewives of Beverly Hills will premiere on September 5 as originally planned, Bravo confirmed on Wednesday -- a fact that RadarOnline.com first exclusively reported last week.
"Bravo will proceed with the Monday, September 5 premiere date of The Real Housewives of Beverly Hills," confirmed the President of Bravo Media, Frances Berwick.
"Given that these episodes were filmed months ago, the producers of the show taped a brief interview this week with several of the cast members to introduce the premiere. Re-editing of the episodes is still underway."
Article continues below advertisement
As RadarOnline.com previously reported, Bravo had been struggling over whether to proceed with the original premiere date in wake of Russell Armstrong's shocking suicide earlier this month.
The network has partnered with the Entertainment Industries Council to raise awareness about suicide prevention.
"The network will air various PSA's during the The Real Housewives of Beverly Hills," explained Berwick. "We will also provide additional information and resources on Bravotv.com, including the National Suicide Prevention Lifeline.
"Our thoughts continue to be with the Armstrong family during this difficult time."
Russell Armstrong Will Have Closed-Casket Funeral Because Of Injuries
RadarOnline.com exclusively reported last week that Russell's widow, Taylor told friends that she did not blame Bravo for her husband's suicide and she credited the network for how they have responded.
"Russell's suicide wasn't caused by the show or Bravo. Russell just simply cracked over ongoing legal and financial issues. The show bears no responsibility for his death, neither does the network. In fact, Bravo has been extremely supportive of Taylor during this tragedy," the Oklahoma native told her closest confidantes.
Article continues below advertisement
RadarOnline.com also revealed last week that the cast, without Taylor Armstrong, filmed a special episode to discuss the suicide of Armstrong's husband Russell on Monday.
Russell Armstrong's Family Considering Suing Bravo
Cast members Camille Grammer, Adrienne Maloof, Kyle and Kim Richards, and Lisa Vanderpump were given no talking points on how to address the troubled businessman's death, the Los Angeles Times reported, as Bravo wanted their natural thoughts and emotions coming across in the special.