Exclusive
Kelly Bensimon Reveals All Of Her Stay-Fit Secrets!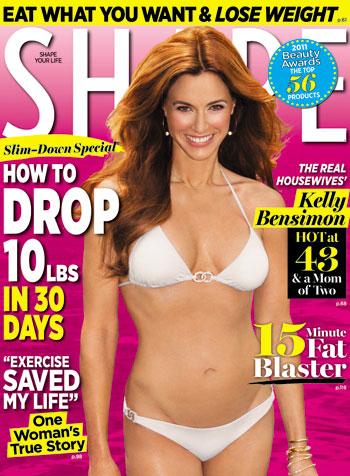 By Jessica Finn - Senior Reporter, Star Magazine & Leah Ornstein - RadarOnline.com Style & Beauty Editor
Real Housewives of New York star Kelly Bensimon, who was featured on the September 2011 cover of Shape Magazine, spoke exclusively to RadarOnline.com at an event for the fitness magazine in New York City on Wednesday night, revealing all of her hot body secrets!
The 43-year-old statuesque stunner, who is releasing a new book, I Can Make You Hot this spring, explained why she was honored to bare her bombshell bikini bod on the cover of Shape.
Article continues below advertisement
Get Kelly Bensimon's Workout Routine Here
"I've always strived my whole life to be in shape," she admitted. "At 16 years old I was 5'10 and had brunette hair, that wasn't the norm – the norm was to be 5'5 or 5'6 with blonde hair. When I was younger I was very curvy and for me curvy wasn't a bad thing, but now curvy is a really good thing and I'm so proud to be in shape and have energy and be an all around better person because of it. It's especially important to be in shape for my kids."
Though her schedule is super busy due to her successful reality show and entrepreneurial efforts, the hot mama always makes sure to get some sort of workout in.
"This morning I was in the Hamptons and I took a ride on my horse and then I rode my bike to my house. I don't think of it as working out. I think of it as living, and just as you brush your hair, I think of it as something I have to do everyday. It's about taking care of the outside, not just the inside."
Article continues below advertisement
Kelly, whose upcoming book is about how she maintains a healthy life style, maintains that she is all about healthy living, but that she eats everything – including meat and carbs!
VIDEO: Behind The Scenes Of Kelly Bensimon's Shape Magazine Cover Shoot
"I am 43 years old and am a testament to living well, and eating well. I always take care of myself, I eat breakfast lunch and dinner and that's it. I'm not a big snacker."
And regarding her famous legs-for-miles, Kelly admits that that she was genetically blessed, but has to work hard to maintain superior stem status.
"It's in my DNA. I have long, lean legs, but if I didn't work out I would have long, large legs."
The star, who is an avid jogger, suggests 20 minutes of cardio a day to stay in shape.
"It's easy and anyone can do it. I don't care if you run or do jumping jacks or do anything. Just do it. Honestly when you work out, it feels like being a kid, its like play time. There's a playfulness that comes out, and it releases endorphins. Take 20 minutes a day and be playful. Its good for you, so why not?"