Exclusive
Pippa Middleton Recycles Favorite Dress — And Huge Smile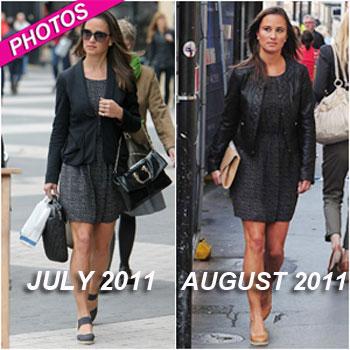 - RadarOnline.com Senior Reporter
She did it again!
Flashing a huge grin, Her Royal Hotness Pippa Middleton was spotted running errands in London in very a familiar dress – her favorite safety pin patterned frock!
Pippa proudly smiled for the cameras as she was snapped Tuesday in the black dress from Whistles, a store she and her older sis, the Duchess of Cambridge Kate Middleton, frequent often, covered with a stylish black leather jacket and tan wedge heels.
Article continues below advertisement
The 27-year-old spent the weekend watching her beau Alex Loudon play in a cricket match dressed in a summer red dress.
Pippa and Kate each are fans of recycling their outfits; both girls have been spotted in dresses and coats more than once, and often two days in a row.
The last time Pippa wore her Whistles safety pin dress she also carried an $1,800 Bulgari Leoni bag.
RELATED STORIES: