Kate Middleton Recycles Another Outfit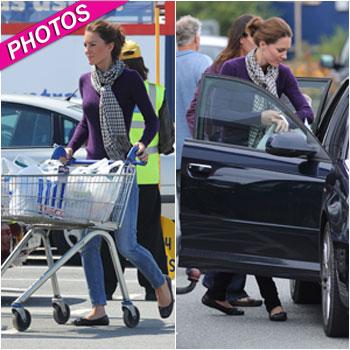 - RadarOnline.com Senior Reporter
Kate Middleton is becoming known as the Recycle Queen - she wore an almost identical outfit shopping twice, and RadarOnline.com has all the details of her Royal Highness' stylish look.
The Duchess of Cambridge went shopping on Monday wearing a purple cable knit sweater, an Aquascutum Club scarf, French Sole flats and dark denim jeans.
This is almost the exact same outfit the Duchess of Cambridge wore just a week earlier on August 1.
Article continues below advertisement
The only difference in the two outfits? The color of her jeans. On August 1 Kate wore light colored Paige Denim skinny jeans and on August 8 she showed off her skinny legs in a pair of dark jeans.
Kate and her sister Pippa Middleton have created fashion frenzies each time they step out in a new outfit, with their stylish choices flying off the shelves of the stores.
Both girls aren't afraid to recycle their clothes. Pippa has worn dresses two days in a row, while Kate has worn her green Diane von Furstenberg dress twice, once in the U.S. and the second time the night before Zara Phillips wedding, and the coat she wore the next day to the wedding she's worn on two previous occasions.