Murder Suspect In Aruba Had Scratches & Blood On His Neck After Robyn Gardner Disappeared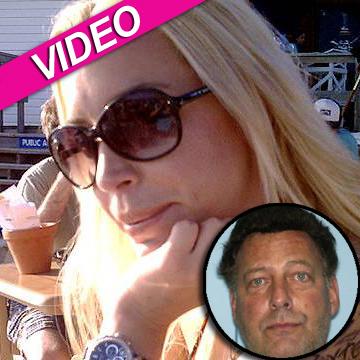 As the concern over missing Maryland woman Robyn Gardner mounts, disturbing new details have emerged about prime suspect Gary Giodarno's behavior on the day of her disappearance.
According to the police report in Aruba, Giordarno had cuts on his throat and blood on his neck when he was on the beach after Robyn vanished.
"What I thought was strange was that this man was not searching...I also noticed that he had a scratch on his throat. It looked as if someone had scratched him with a nail," an eyewitness told the Aruban authorities, reported ABCNews.com.
Article continues below advertisement
The onlooker and her two friends had been approached on the beach by Giordano on August 2, and the damp and scratched 50-year-old asked them: "Can you help me? We were snorkeling and my girlfriend is missing."
One of the women told police that while Giordano's sneakers were wet, his shorts were not.
"They were certainly not soaking wet because there was no water dripping from his pants. In my opinion, the man was covered in sweat," she told police.
These new details shed further suspicion on Giordano's story that his travel partner got swept away during a snorkel trip after the pair had spent the afternoon drinking at the Rum Reef Bar & Grill in the Baby Beach area of the Caribbean island.
The third male witness was struck by Giordano's strange behavior and thought the stranger in the sand was acting very oddly, telling police.
"In my opinion, the man was weird...weird, I mean that he should have cried or put pressure to find his girlfriend."
Article continues below advertisement
Robyn Gardner's Boyfriend Wants Justice For His Missing Girlfriend
When the witness spotted a spot of blood the size of a plastic cup on the beach, Giordano -- who had a cut on his shin -- immediately said: "No...that's my girlfriend, I wouldn't kill her," according to the police report, then adamantly claimed that he and his girlfriend hadn't been arguing.
"No, no, we were not fighting. We were cool all day, it was nothing like that," said the Maryland businessman, who has a history of violence against women.
In his own report to police, obtained by ABC News, the suspect said he and Gardner never argued, "We enjoyed each other...there was no reason to argue."
Gary Giordano To Face Aruban Judge in Disappearance Of Robyn Gardner
As RadarOnline.com previously exclusively reported, Gardner and Giodarno had known each other for over two years.
"Their relationship spanned back a long way, they'd known each for a couple of years," Gardner's friend Lianne Delawter told RadarOnline.com in an exclusive interview.
Article continues below advertisement
"They met on Match.com and went out on a 'date' but it didn't work out and they stayed friends. It wasn't a date-date, they were never seeing each other."
REPORT: Suspect Took Out $1.5 Million Insurance Policy On Missing Woman In Aruba
Giordano claimed that when he lost sight of his travel partner in the water, he "tried to get someone's attention. I tried to make as much noise as possible to raise the alarm. I was scared and panicked. I banged on the shutters to make noise."
Investigators replied by telling Giordano that surveillance video doesn't show him hurrying or panicked. "I was completely exhausted," he told police.
Giordano has remained a mysterious, monstrous figure in the month that Robyn has been missing, and his father has finally spoken out to refute the way the suspect has been portrayed.
"The least I can do is stand up for my son and tell the world that what they've been hearing about him is not true, he's not a monster," Frank Giordano, 80, told the Today show on Tuesday.
Article continues below advertisement
His dad revealed touching photos of Giodarno with his three sons to prove that he is a loving family man, not a cold-hearted murderer.
"I would like to show … the side that shows Gary as a good human being who's good to his family and good to his friends," explained frail Frank, who is battling cancer.
"I know he would not be able to kill someone... murder someone."
Giordano has not been allowed visitors since his arrest in Aruba, "It's not just been his isolation, it's ours."
"His kids miss him the most. He's almost a big kid himself. They love coming over to his house," his dad said of twice-divorced Giordano.
Despite Gary being friends with Robyn for a few years, Frank said he doesn't know her and has never heard his son talk about her.
"The whole situation is strange," he concluded.
Giordano has been jailed as the lone suspect in Gardner's disappearance, although he has not been charged with a crime and no body has been found.
Article continues below advertisement
He could be released on Tuesday unless a judge orders otherwise and investigators are busy gathering enough evidence to keep him detained for a further 60 days and proceed to trial.