Dexter Star Michael C. Hall's Secret New Girlfriend Revealed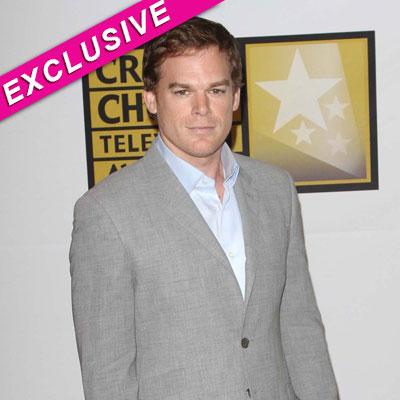 Dexter star Michael C. Hall has a secret new girlfriend and RadarOnline.com has exclusively learned she is 15 years his junior.
The 40-year-old actor has been having secret trysts with Vanessa Abrue, a Showtime staffer, and the two have been going to great lengths to keep the relationship low-key since they started dating in March - just three months after his ex, Jennifer Carpenter, filed for divorce from him.
Article continues below advertisement
"No one would ever suspect these two were together because she isn't what anyone would expect Michael to be with," the insider said. "They hardly go out together but when they do it's always with a group of people so no one would suspect he's with someone."
According to the source, Vanessa brags about dating Michael to her friends but uses the code names "Ginger" or "my friend" when she speaks about him in front of other people.
The young brunette bears a striking resemblance to Hall's 31-year-old ex-wife and Dexter co-star, Carpenter, who he was married to for nearly two years.
"Vanessa would constantly talk about Michael texting her at all hours of the night but said she thought it was all worth it," the source told RadarOnline.com.
"They mostly hang out at Michael's house, but when she does go out in public with him it's only with others and she walks at a distance."
Article continues below advertisement
Vanessa, 25, has also worked on the television show Weeds but has been a staffer on Dexter since last season, and spends so much time with Michael that people think she is his assistant.
"It's more like Michael, Vanessa and a few others that work on Dexter that are not actors. They are all close to Vanessa's age," the insider said.
"When they all hang out at Michael's, Vanessa would always stay the night with him but I don't think Michael realizes how much Vanessa talks about him to friends."
Another source tells RadarOnline.com that they think Michael dating Vanessa is "gross" because he is so much older than she is but believes that he is "going through a midlife crisis dating a twenty-something."
The insider says that no one says anything because Michael, who battled cancer last year, is fun to hang around with and gets them into showbusiness events.
As for rumors that Michael was dating blonde beauty Julia Stiles, who also starred on Dexter last season, the insider said that was just a ruse and they were never together.
Article continues below advertisement
"The Julia Stiles speculation last season was an 'inside' lie created to use Julia as a scapegoat and throw people off," the source said.
"Vanessa even mentioned Julia as a scapegoat at one point."
Michael has been married twice - first to Amy Spanger, which ended in 2006 after three years and then he eloped with Carpenter in 2008 but they filed for divorce in December 2010.
RELATED STORIES: