Exclusive
Emmys Host Jane Lynch Wants It To Be The Best Show Ever!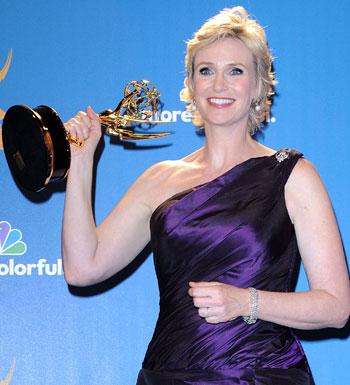 With less than three weeks to go until she takes the stage as the Emmys host, Glee star Jane Lynch is determined to make sure this year's awards are a huge success.
"What I am concerned about is I do well and don't make a fool of myself!" Lynch revealed on Tuesday.
"We want to make a splash, I want it it be the best awards show ever. It's such a coveted spot. You want to do it justice," said the star, who is only the third woman take the helm on the show, following in the footsteps of Angela Lansbury and Ellen DeGeneres.
Article continues below advertisement
Lynch, who plays tracksuit-clad cheer leading coach Sue Sylvester on the hit Fox musical, Glee, revealed that many details of the primetime Emmys are still in the works but she is collaborating closely with the creative team.
"We are still putting together the pieces and I've pitched in a few things for the Glee cast," she said.
As for her popular pseudonym, Lynch joked that the show would be very different if Sylvester was the host.
"Sue Sylvester would make the show explosive … but it might be kind of warlike, angry and violence. A show with Jane Lynch would be a lot nicer and easier to digest."
Jane is nominated for an Emmy herself, for Supporting Actor/Actress in a Comedy but says that is the last thing on her mind at the moment. "I think my nerves will be mostly focused on doing the show," she said.
The 51-year-old actress added that Sue would tell her to: "Somehow find a way to give all the awards to yourself!"