Here's Jane! Glee's Dianna Agron Compares Jane Lynch To Lucy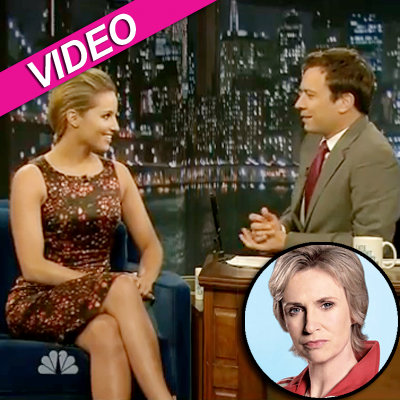 Need a little Glee fix to get you through another summer of reruns? We've got you covered.
Gorgeous Dianna Agron, making her first appearance on Late Night with Jimmy Fallon on Tuesday, heaped praise on co-star Jane Lynch.
Agron bestowed a huge compliment on Lynch, comparing the comically-gifted TV actress to the legendary entertainer who defined the genre.
"To me," Argon said, "Jane is our Lucille Ball, who I was obsessed with growing up."
Article continues below advertisement
When the studio audience didn't make a peep at the Lucy reference, Argon asked if she was the only one who's heard of the late TV legend, which got the crowd applauding. (Fun fact: Lucy would have turned 100 Saturday.)
Jane's "such a team player," Argon said, noting Lynch doesn't have a huge ego, even though she's more than entitled to with her list of accolades. "She is just wonderful."
Fallon asked Argon about the show's upcoming limited-run film Glee: The 3D Concert Movie, which features live performances and behind-the-scenes segments of the cast's international tour.
Argon said she loves that aspect of her job, as "you get to be a pseudo-rock star and travel around the world."
The film's two week engagement begins August 12; Glee returns for its' fourth season Tuesday, September 20 on Fox.