Exclusive
INVESTIGATION: Jamie Foxx, Lady Gaga & NBA Coach Mark Jackson Linked To Drug Kingpins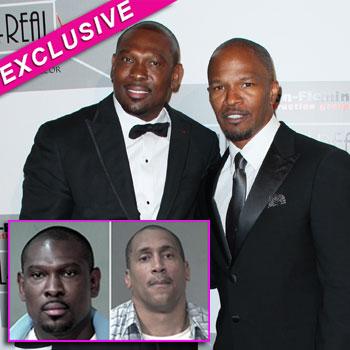 By Dylan Howard - Senior Executive Editor, Star magazine
Jamie Foxx, Lady Gaga and Golden State Warriors coach Mark Jackson are caught up in a scandal surrounding a multimillion-dollar international drug cartel, Star has learned exclusively.
Federal law enforcement authorities discovered that two men they claim are masterminds behind the criminal operation are business associates and friends of the Oscar winning actor and pop star.
Article continues below advertisement
Foxx found himself unwittingly associated with a massive drug bust after his pal Warren Braithwaite was arrested in a five-state Drug Enforcement Agency sting that dismantled a drug ring responsible for the distribution of thousands of pounds of marijuana.
Braithwaite, 38, was Jamie's friend and business associate, all while secretly running a crime syndicate, according to law enforcement charges and documents obtained exclusively by Star.
Meanwhile, Lady Gaga has ties to Braithwaite's alleged fellow drug trafficker, Kevin Mucthison, 47.
She collaborated with him to launch her Heartbeats by Lady Gaga headphones and what's more, Star has also learned that Mucthison -- who goes by the name Sincere -- is also working on a headphone project with Foxx!
DRUG RING STING
On June 14, Braithwaite's Hollywood high life came crashing down when DEA officers arrested him after a 12-month dragnet for running an illegal enterprise, known as "Mekka/Blackman."
Article continues below advertisement
He is accused of using UPS and FedEx trucks to transport up to 10,000 lbs. of marijuana from Mexico -- worth more than $8 million dollars -- and distributing them throughout the country.
Federal agents allege that he was the cartel's kingpin, acquiring the enterprise through "racketeering" last summer.
Prosecutors say they caught Braithwaite on wiretaps multiple times coordinating the sale and transportation of drugs.
Just 12 days before his arrest, as Star has learned, Braithwaite and Foxx were rubbing elbows at a charity event to honor the actor/singer and NBA legend Magic Johnson.
Braithwaite's company, Baron-Fleming Construction Group, had sponsored the $500-a-ticket soiree.
Now Braithwaite is in a Phoenix jail, charged with five felony counts related to the drug ring; he faces up to 50 years if convicted. He pleaded not guilty to all charges on June 29.
Article continues below advertisement
Though cops tell Star that Foxx is not under criminal investigation, they're still actively investigating the money trail to determine how Mekka/Blackman laundered its profits.
"We are still investigating this ongoing case," says Lt. Justin Griffin of the Maricopa County Sheriff's Office, who worked with the DEA to smash the ring.
OUTFOXXED?
Until his arrest, Braithwaite enjoyed life among the rich and the famous.
Star has obtained e-mails proving he frequently used his connection to Jamie in business dealings.
In one, Braithwaite touted his closeness to Foxx as he attempted to collect a $15,000 debt.
Braithwaite's interior design business, Casa Décor, was also entrusted with doing extravagant work on the actor's multimillion-dollar mansion in Thousand Oaks, Calif.
In a Feb. 12 e-mail, Braithwaite told Foxx his wife, Elsa, was "dropping by those design sketches later today." He added, "When you approve we can get rolling."
Article continues below advertisement
One of his employees told Star: "Warren paid us all in cash."
THE COACH & THE CRIMINAL
In addition to his relationship with Jamie, Braithwaite has ties to Jackson, the former ESPN analyst who was recently appointed head coach of the Golden State Warriors.
Lady Gaga Debuts New Video You & I – One Day Earlier Than Expected
In fact, Jackson took Braithwaite to a news conference on June 100 -- just 4 days before Braithwaite's arrest -- when he announced his decision to leave broadcasting and accept the role.
Braithwaite was also involved at the True Love Workship Center International, in Van Nuys, Calif., a ministry helmed by Jackson and his wife.
While the Warriors had no comment, Jackson tells Star he has "not seen one piece of evidence that Brother Warren is the person police say he is. Our prayers, thoughts and love are for Warren and his family."
Lady Gaga Tweets Photo Of Her Banged-Up Feet!
But while Foxx seemed blind to Braithwaite's shady dealings, not everyone in their circle was so naïve.
Article continues below advertisement
DRUG KING'S VIOLENT PAST
Ironically, the June 2 cocktail event that Braithwaite and Foxx attended was dedicated to preventing domestic violence, but Star has learned that Braithwaite has been accused of assaulting two women.
Both of them were granted restraining orders against him, claiming he had threatened them and their families.
One woman, who lived with Braithwaite in 2003, detailed a horrific pattern of abuse.
Article continues below advertisement
EXCLUSIVE DETAILS: Jamie Foxx Brawls With Ex-Manager At Usher Concert
She told the court about a terrifying incident where Braithwaite "cut my throat with a knife" and another in which "he punched me in the stomach twice" — while she was pregnant with his child, causing a miscarriage, according to court papers obtained by Star.
While Braithwaite was never jailed for any domestic-violence-related charges, he and 22 members of Mekka/Blackman face significant prison time if convicted.