Hollywood Stars Urge Londoners to Stand Up To the Rioters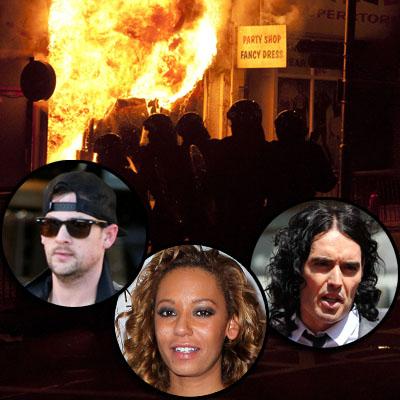 As the violence in England escalates, so does the reaction from celebrities who are pledging their support to the riot-torn nation.
The smoke-ridden streets full of burning cars and ransacked stores look more like a scene from a Hollywood movie than the normal peaceful city-life of London.
Now that the riots, looting and fires have spread across the country to Manchester, Birmingham and Nottingham, even more stars are speaking up against the wave of violence sparked by a police shooting.
Article continues below advertisement
Good Charlotte frontman Joel Madden is disgusted by what's happening after recently visiting the city and is the latest star to take to Twitter about the riots.
"Alright London I want you guys to organize and hit the streets. Do your part and stop this stupidity. Get organized and get to it," he wrote.
Madden sent further messages to the nation to stand up to the rioters, tweeting, "Use whatever tools, resources, and networks you have to help your city. You got this UK."
Anxiously awaiting the birth of her baby, Spice Girl singer Mel B expresses her fear for her countrymen, writing: "i am really worried for everyone in uk right now,these riots must be stopped!!"
"Nearly 600 people have been arrested in London alone for rioting, I pray this stops everywhere!!" she wrote yesterday.
British funny man Russell Brand showed his serious side and told followers to expect more from him on the riots later on Wednesday. "Wrote something about the riots. Be up in a few hours. Hope you're all safe, sending you all love."
Article continues below advertisement
Celebrities haven't escaped the violence, Oasis singer Liam Gallagher's boutique Pretty Green in Manchester had its windows smashed and was ransacked by looters Tuesday night.
Twilight star Kristen Stewart flew into London last week to film Snow White and the Huntsman, and despite rumors that production had been halted by the violence, the schedule is reported to be going ahead as planned.
The British government is finally hearing the calls to action as Prime Minister David Cameron vowed to "fightback" after a fourth night of attacks.