AMAZING PHOTOS! Brave Woman Jumps From Burning Building In London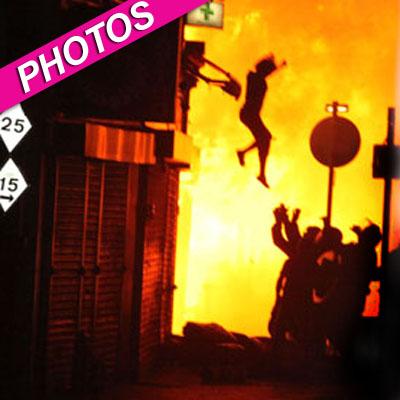 It was truly a leap of faith.
An unidentified London woman -- terrified for her life -- jumped from a burning building during yet another night of violence in London.
In the amazing photograph that becoming an symbol for this week's riots, the woman is seen jumping from a first floor window to escape the flames after a massive fire at Reeves furniture store in Croydon spread to nearby properties.
Article continues below advertisement
She sat on an awning as flames hovered around her while a small group of police and neighbors waited on the street below with their arms outstretched to cushion her fall.
They caught her safely and she ran off -- amazingly unscathed!
At least one witness said the flames were so fierce the woman had no choice but to jump.
The intense photograpgh was taken by Amy Weston for WENN news agency and has become and internet obsession, with many people asking if it was fake.
But Jonathan Grassi of WENN's photo desk, told smh.com.au the image was genuine and was part of a series of photos captured by Weston for WENN in the late evening during the third night of riots in London.
"It's slowed down our website because everyone is linking to it and tweeting it," he said about the company's online photo database.
RELATED STORIES:
Police Shut Down Hollywood Boulevard After Film Fiasco Nearly Causes Riot