Exclusive
As London Continues To Riot And Burn -- Celebrities Lend Their Support On Twitter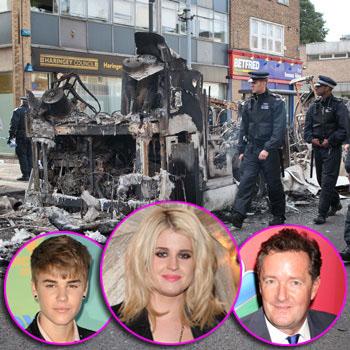 As London burns from the fires set by thousands of rioters, celebrities on both side of the pond have been expressing their disgust at the senseless violence.
Justin Bieber had a shocked response last night when he saw the news. "WHOAH...been out of the loop all day. to all the people of the UK I hope you are ok. my prayers go out to you and the amazing people there," the Canadian pop star tweeted.
Article continues below advertisement
While English-born CNN anchor Piers Morgan wrote: "Millions of people are suffering in this financial crisis, but not looting/rioting/pillaging - no sympathy for these yobs whatsoever."
The most outspoken star so far has been Kelly Osbourne, who admits she has barely left her laptop since the fighting and looting broke out on Saturday.
A clearly fretful Kelly Tweeted on Monday: "Spent the last 3 hours trying to get hold of all my friends in london finally the last one texted me back & is home safe. i need a nap!"
Earlier, the London-born singer and reality star criticized the way the violence was being contained back in her homeland.
"With the greatest of respect the police are not educated enough 2 deal with this kind of destruction so why dont they bring in the bloody army," she wrote, but when the Tweet caused an online backlash she quickly amended it.
"Just to make myself clear i DON'T MEAN THE POLICE ARE STUPID just that they have no been taught to deal with things on this level!"
Article continues below advertisement
Further messages of support and concern from Kelly have included. "i literally cant leave my lap top busy making sure friends are safe and glued to the news'" and "Reading all your tweets is breaking my heart, my country is being destroyed by children."
Fellow reality star Whitney Port simply wrote: "Pray for England."
Singer Kate Nash joined forces with rockers Kaiser Chiefs and hundreds of others in the effort to clean-up after the mess in ransacked areas of South, East and North London.
"At the Bethnal Green clean-up, nice to see so many people ready to help in the community!" tweeted Nash, lending a surprisingly positive voice in the midst of the mayhem.
Following with: "Love you London. This is not what/who we are. Riots and violence are not about community but we are. (Stay safe)."
The mob violence grew out of what started as a peaceful protest against the police in a north London district of Tottenham, where officers had shot and killed a 29-year-old father of four in an anti-firearms operation.
Article continues below advertisement