Exclusive
Hannah Montana Star Cody Linley's Brother Found Dead By Apartment Manager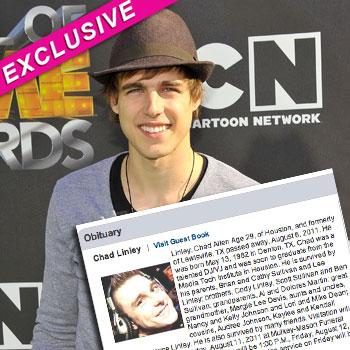 By Amber Goodhand - Radar Reporter
Hannah Montana star Cody Linley's older brother, Chad, died earlier this month and RadarOnline.com has learned exclusive new details about his mysterious death.
While there is still no official cause of death, the Harris County Medical Examiner in Houston, Texas, tells RadarOnline.com they have conducted an investigation and it's pending the toxicology reports, which could take weeks.
Article continues below advertisement
"A friend of Chad's called and said he was concerned because he hadn't heard from him in a while," a spokesperson for the Houston Police Department said.
"His apartment manager performed a welfare check on Chad and found him unresponsive. He then flagged down a nearby cop."
Chad was 29-years-old at the time of his death and his 21-year-old brother Cody is famous for starring on the hit Disney show with Miley Cyrus.
"Chad had a passion and a motivation that was unmatched except for maybe his brother, Cody," his friend Eric Thomas told RadarOnline.com in an exclusive interview.
"He loved everyone. I honestly can't recall ever hearing him say he hated anyone. He loved music and was definitely at his happiest on a dance floor or behind the decks spinning records. His smile and his laugh were infectious."
A funeral was held for Chad on August 12 and Thomas noted: "Even at his funeral in what should've been a sad and gut-wrenching time for most, he managed to bring a smile to everyone's face and laughter rang through out the entire service as different speakers came up and shared different experiences and stories about Chad."
Article continues below advertisement
Chad was soon to graduate from the MediaTech Institute in Houston and was also an actor in his own right, starring with Nikki Blonsky in the TV movie, Queen Sized.
Disney star Demi Lovato tweeted condolences last week saying, "RIP Chad Linley...Knew you since I was a kid.. You were family... You will be missed... Please #prayforcodylinley and his amazing family."
And Chad's heartbroken little brother was quick to respond to his fans about their outpouring of love and support: "Thanks for all the prayers and support. I appreciate everyone that has reached out to me one way or another," Cody tweeted.