Craig Ferguson Jokes About White Powder Scare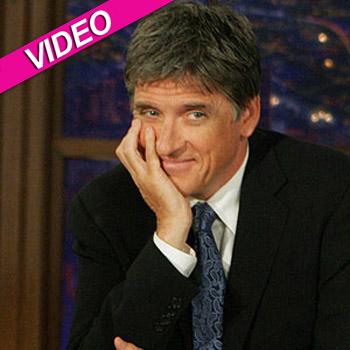 By Adam S. Levy - RadarOnline.com Staff Writer
The show goes on for late night host Craig Ferguson.
The funny Scotsman, 48, took the stage Tuesday after a threatening letter containing a mysterious white powder was sent to his studio at CBS Television City in Los Angeles' Fairfax District, addressed to him.
The Late Late Show host described the not-so-funny scenario in his opening monologue.
"Today, someone sent an envelope packed with white powder to the show. I offered to test it, but they said 'No,'" he said, joking of his past battles with addiction.
Article continues below advertisement
"All the Late Show employees had to leave the office so no work got done: It was just like a regular day here,'' Ferguson said in his monologue. "This was the most attention this show has ever gotten.
"Nowadays, white powder in the mail is a bad thing. I called CBS security and they said, 'We're busy.' So I told them I am a personal friend of The Price Is Right Host Drew Carey and they sent somebody over right away!"
Ferguson said the letter had been sent from France, coincidental since he'd just got back from doing his show in Paris for a week.
"I did do that Gerard Depardieu joke, but his preferred weapon of choice is pee,'' Ferguson said. "Well, it was scary, but CBS unveiled their secret plan to handle the situation if the powder had been dangerous -- they are going to replace me with Ashton Kutcher!"
Ferguson said later in the episode, referring to the 5.8 quake that hit the East Coast on Tuesday: "I was going to come out and talk about the earthquake, but I can't do that now ... because the earthquake only scared millions of people on the East Coast, but the white powder did something much worse ... it scared me."
Article continues below advertisement
Elite Navy Seals From Same Unit That Got Bin Laden Are Killed In Terrorist Attack
Two of the show's interns were isolated after being exposed to the powder around 2:50 pm PT Tuesday, authorities said, adding a Hazmat team later determined the substance was not dangerous.
Ferguson brought the interns, Jason and Sarah, onto the show; he asked Sarah what her thoughts were upon opening the frightening envelope.
"I stayed seated, but the intern next to me got up and ran,'' Sarah said.
Norwegian Mass Murderer Living In World's Most Luxurious And 'Humane' Jail
"So you got up and ran, eh?'' Ferguson later joked with Jason.
"Well, apparently some other intern decided I ran,'' Jason said. "But I really just got up and left because I decided someone should go and get an adult or someone in authority to handle the situation."
Article continues below advertisement
Ferguson later tweeted about the incident: "Ack!Someone mailed my show white powder & claimed it was anthrax. I'm not a big fan of that sort of thing. #thanksFBI &LAPD&LAFD&CBSsecurity."
New York Firefighters Release Tribute Album To Mark 9/11 Anniversary
The incident came just days after Ferguson's late night mate David Letterman (who produces Ferguson's show) was threatened in an online forum popular with Muslim extremists.