Charlie Sheen Pelted By Garbage During Concert Appearance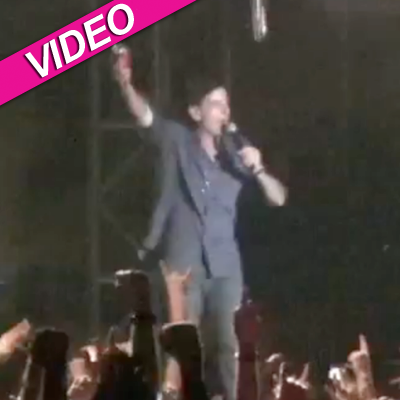 From the highest paid actor in TV history to getting pelted with garbage at the Gathering of the Juggalos in less than six months, Charlie Sheen's year of "winning" continues.
The ex-Two and a Half Men star made a cameo at the annual counter culture concert put on by the Insane Clown Posse this past weekend, but got a rude awakening from the band's notorious fan base, who booed the actor and threw trash at him when he announced the band Tech N9ne.
Article continues below advertisement
"Damn! I feel like I'm back in Detroit," Sheen told the Cave-in-Rock, Illinois crowd, referring to his ill-fated Motor City comedy gig earlier this year. "I should've worn my f**king goggles.
"Before I get impaled, I'm gonna leave the stage."
Sheen's rep told E! that the trashy salute was actually the fans' way of showing affection towards the Vatican Assassin, saying "there is no greater compliment to have garbage thrown at an artist."
MORE ON:
Two and a Half Men
The Gathering of the Juggalos, historically, is not as celeb-friendly as say, the Golden Globes: Last year, Tila Tequila ran into similar hostility in her appearance at the festival.