NEW VIDEO: Topless Tila Tequila Attacked At Music Festival; Police Say Arrests Unlikely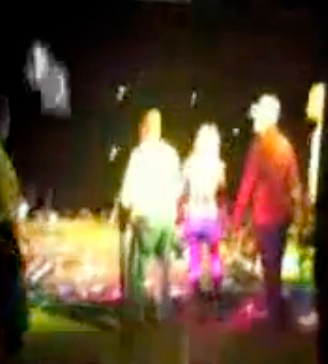 New video has emerged of the moment in which a topless Tila Tequila was attacked at the "Gathering of the Juggalos" music festival in Hardin County, Illinois.
The reality TV star suffered facial cuts when she was pelted with rocks and bottles while performing at the event early Saturday.
In the 14 second clip -- posted on YouTube -- Tequila is seen being pelted with objects, but she chose to remain on stage and continue her performance.
Article continues below advertisement
Security guards are also seen dragging a man from the stage after he jumped onto stage.
Tequila, most famous for her reality show Shot at Love, posted a Twitter message Saturday, saying she would sue the festival, which is organized for fans of the hip-hop group Insane Clown Posse.
"She's pretty cut up," a performer who saw the violence at the event told CNN.
The witness asked not to be identified so that he does not anger the juggalos.
He also said Tequila taunted the audience at the show by taking "her top off" which sparked the audience who "got really violent".
Soon after rocks and bottles were thrown.
Tequila went to her trailer, but the witness said people continued to smash the windows.
Hardin County Sheriff Tom Seiner confirmed he received a report from the 28-year-old reality star over the phone about 8 o'clock Sunday morning, but she said she was unable to go to the police department to have photographs taken of the injuries.
"Myself and the state police, neither one of us have heard back from her," Seiner said.
The Sheriff said the likelihood of someone being arrested for the attacks is low because "there's 800 concertgoers out there approximately this year and it's going to be very hard to identify anyone who threw that threw the things at her."
EXCLUSIVE: Tila Tequila Starring In Porn Film