Exclusive
EXCLUSIVE: Tila Tequila Dumped From Celebrity Rehab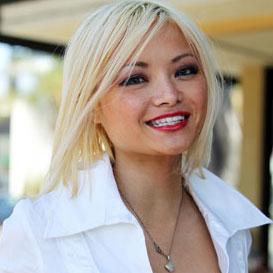 Tila Tequila won't get the Celebrity Rehab treatment, RadarOnline.com has exclusively learned.
After being the first to sign onto Dr. Drew Pinsky's life-saving cable television show, the trouble-prone reality TV star has withdrawn from the program, which is expected to begin filming later this month.
"No," was the simple and short statement RadarOnline.com received from Tila's management, when we questioned if she was still to appear on the show.
Article continues below advertisement
Her manager refused to go into more detail about the circumstances behind her withdrawal.
But RadarOnline.com has learned the show's producers are not 'unhappy' about the decision.
The decision follows RadarOnline.com's revelation that the bi-sexual star was photographed with disturbing cut marks on both her arms.
At the time, a medical expert told us the marks were scars and were self-inflicted.
"These are self-mutilation scars," Dr. Joseph Haraszati, who had not treated Tila, told RadarOnline.com.
"It looks like there are some burn marks too... cutting and burning are a common combination among women."
Tila had claimed she woke up to find her arm gushing with blood.
It raised reports of a suicide attempt and Tila chose to blame it on her alter ego "Jane."
It is a major blow for Tila and Dr. Drew's high-profile show for VH1; the star was poised to be one of their main attractions, in the fourth series that failed to attract major names despite an attempt to recruit such luminaries as Lindsay Lohan and Heather Locklear.
Article continues below advertisement
Tila, who had a self-admitted prescription pill problem, was to get treatment for her addiction to snorting the sleep aid Ambien, as RadarOnline.com has reported.
"She would base her entire day around it," one insider had told RadarOnline.com. "She would wake up, snort ambien, Google herself, do more, Twitter all day and then sleep."
In trumpeting her sign-on, Tila had claimed that VH1 was also considering giving her a spinoff show about her sober life, should Celebrity Rehab go well.
"I know I am an extremely smart girl and to run all these empires when I am not even 30 yet, is quite an accomplishment, however I finally admitted to myself that I cannot rely on taking prescription pills everyday for the rest of my life!" Tila wrote, at the time of the announcement.
It's unclear if Tila will still seek help for her troubles.
EXCLUSIVE: Tila Tequila Rushed By Ambulance To Hospital For 'Psychological Rescue'