EXCLUSIVE: Tila Tequila Rushed By Ambulance To Hospital For 'Psychological Rescue'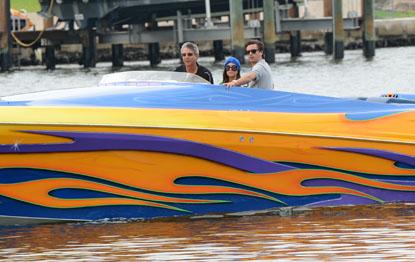 An online stunt pulled by Tila Tequila this weekend ended with her being taken to the hospital by the Los Angeles Fire Department for a 'psychological rescue,' RadarOnline.com has learned exclusively.
Tila posted video on her website of what she said was her bloody arm – indicating an alleged suicide attempt – and claimed she had alternate personalities and that one named "Jane" caused the physical damage.
Article continues below advertisement
The stunt caused many concerned people to call authorities as they were concerned the ex reality star harmed herself. Now RadarOnline.com has exclusively confirmed with the Los Angeles Police Department that a rescue ambulance transported the troubled reality-TV star to a local hospital.
"A Los Angeles city rescue ambulance was called and they transported Tila to a local hospital," a spokesperson from the LAPD told RadarOnline.com. "The call for the rescue ambulance was for a psychological rescue."
A series of calls were placed to 911 from distraught readers of Tila's website on Saturday after she posted the video. Calls also came in from people on tilaresistance.com, a Web site where the surfers do not like Tila, but nonetheless felt they needed to help. That web site was first to report the "drama" as it unfolded.
Several police, paramedics and fire rescue personnel searched for almost five hours until they found Tila and took her to the hospital for further evaluation.
"I blacked out and now that I just woke up from excruciating pains all over my body, there was blood and dope everywhere!" Tila wrote.
Tila is scheduled to be a cast member on the new season of Dr. Drew's Celebrity Rehab, which has been put on hold until July.
She later lashed out at people who took her stunt seriously, and once again assailed the "haters." But it was Tila who was being criticized around the Web for faking what appeared to be a suicide attempt and now we know those actions ended with valuable public resources being squandered.