Exclusive
Spoon With John Stamos -- Watch His Ultimate Guide To Cuddling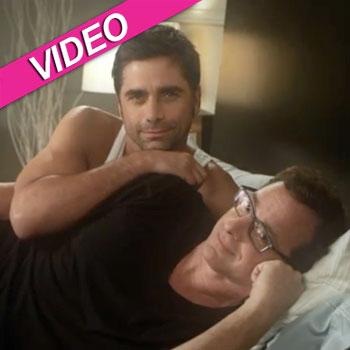 It's time to get your hug on!
Full House star John Stamos sent millions of young girls' (and boys') hearts a fluttering with his chiseled features and puppy dog eyes in the 80s and 90s.
Now the hunky actor is sharing his bedroom skills with the world in a new video released by CollegeHumor.com with the help of some bedtime fun with his former co-worker, Bob Saget.
In the helpful , and hilarious, how-to guide, Stamos introduces himself as: "One of the most handsome men you can think of off the top of your head," and who are we to argue?
Article continues below advertisement
"Being a noted Lothario, people often ask me for sex advice, but guys, if you truly want to win over a woman the real key is the cuddle," he explains in a sultry voice. "So as my gift to you, here are the techniques of my patented Stamos Cuddlefest."
The E.R. star begins with the Stamos Soother, but instead of a hot blonde, it is be-specatacled Saget who nestles into his muscled chest and wraps an arm around his waist.
"The pitter patter of your heart will reassure her that you are still alive," John explains.
"From this position she can kiss your neck, press your gallant chest as you run your fingers through her raven hair.
"Next you want to move into the Stamos Spoonful, it's a gentle way to show your lady what she has to look forward to later," coos Stamos as Saget gazes at him with a soft expression and love-sick eyes.
Article continues below advertisement
"Be careful not to let your arms get trapped beneath your special gal, this is worse than death. Gently cup her perky breast, or the rest is up to you," he says as he cradles Saget's pecs.
"Advanced cuddlers may wanna try the Stamos Swaddler, nothing brings you closer to your lady. And if you sleep with your eyes open the Stamos way (a.k.a the Stamos Shark Sleep), you get to star at your lady all night long," he adds.
Students need to take careful note of the most important cuddle, the Stamos S'Touching, where you run your fingers down her gentle curves "like a cartographer of her female form," says the hunky actor.
"With the right affection and tenderness my Cuddlefest guarantees that your woman will stay most cozy," he promises at the end of the tutorial.
"That's right," says Saget with a grin, which causes a seemingly shocked Stamos to leap up and scream, "What the f***!"
Article continues below advertisement