AUDIO: 'I Don't Want To Replace Anyone -- Especially Charlie Sheen' Says John Stamos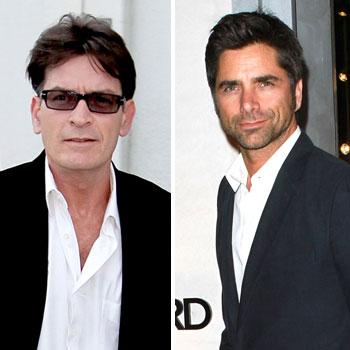 He's a TV stalwart, famous for roles such as Glee's Dr. Carl or Full House's Uncle Jesse, but now, is John Stamos ready to replace Charlie Sheen on Two And A Half Men in the wake of the actor's firing this week?
"I'm trying to stay out of the crossfire," Stamos said in an interview on On Air with Ryan Seacrest on KIIS-FM in Los Angeles on Friday. "I know not what you're speaking of, Ryan."
Stamos told Seacrest of the rumors, "It's all been very interesting... it's all been flattering, I'm very flattered that people think I could replace him.
Article continues below advertisement
"Charlie's great on that show," Stamos said. "In the big scheme of things, I hope it works out, and I hope he goes back and the show's fans get what they want."
Asked if there have been discussions about the possibility of him taking the role, at least, Stamos said no one "has talked to me officially about doing that.
"It's really not part of my career plan right now," he said. "I'm ready to have my own show, my head isn't going into replace anybody ... I don't want to replace anyone -- especially Charlie Sheen -- its just not where my head's at."