Exclusive
Dr. Phil Scores First Interview With Casey Anthony's Parents — Making Donation To Caylee Charity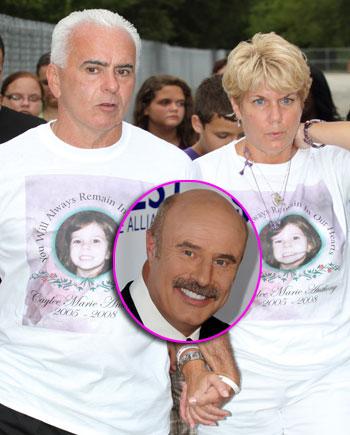 - RadarOnline.com Senior Reporter
Casey Anthony's parents are going to give their first interview since she was acquitted of killing their granddaughter to Dr. Phil McGraw RadarOnline.com has learned, and he's making a donation to Caylee's Fund in return.
George and Cindy Anthony will be the guests on The Dr. Phil Show for the season premiere that will air September 12, and he says he will make a donation to their charity, Caylee's Fund, and the Anthony's won't personally profit from the money.
Article continues below advertisement
"The couple will derive no income from Caylee's Fund," Dr. Phil said in a statement Tuesday. He said the charity will "focus on promoting processes to educate the public about – and advocate for – grandparents' rights as well as missing and abused children."
The TV psychologist said he asked the Anthonys everything people want to know. "Nothing is off limits during this interview."
He also expressed sympathy for the family. "Cindy and George have suffered a horrific loss with the untimely death of their granddaughter Caylee, and they have since endured an unprecedented public attack on their family. Have these attacks been warranted, or not? I looked them straight in the eye and asked some very tough questions.
"Despite living under a 'media microscope' for years, THEIR story has never really been told and there's so much more to it than we've heard in the media. Throughout this extensive interview, we explore every detail of their ordeal, and they answer every question I know will be on our viewers' minds."
Casey Anthony was acquitted of killing Caylee Marie in July and was shortly thereafter released from jail. Her parents' lawyer has said that they have not heard from their daughter since her release and they do not know where she has been hiding.
Article continues below advertisement
Cindy Anthony defended their decision to go on Dr. Phil's show in the statement, saying: "We knew that we'd want to speak at some point and we figured there was no better place than with Dr. Phil. We are hoping that by doing this interview, we will be able to help other people who may be experiencing struggles of their own. We certainly don't want anyone to experience what we have these last three years."
George Anthony said: "We appreciate the way in which Dr. Phil has helped others, and we trust him enough to completely open our hearts in telling our story. He is a professional that understands the uniqueness of our family situation. There's no one better to do this interview than Dr. Phil. We knew he would ask the difficult questions, and we were right."
RELATED STORIES:
Casey Anthony Must Return To Orlando By August 26 To Serve Probation