Carrie Fisher Loses 50 lbs in 9 Months: "I Want To Get Back In The Metal Bikini!"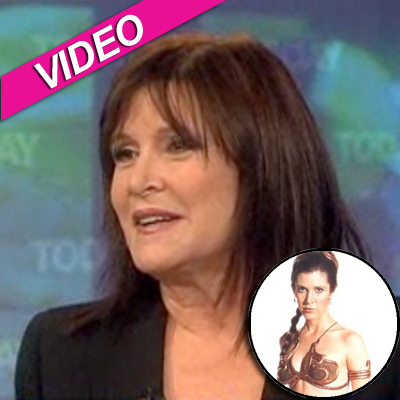 Princess Leia is now the 'Queen of Weight Loss.'
Actress/author Carrie Fisher showed off her slimmer new body Wednesday on The Today Show and announced she's lost 50 pounds in nine months on the Jenny Craig Weight Loss Program, for which she is the celebrity spokesperson.
Fisher joked that her goal is to slip back into the iconic two-piece metal bikini she wore as Princess Leia in Star Wars Episode VI: Return of the Jedi" back in 1983.
Article continues below advertisement
"I want to get into the metal bikini and just walk around the house like an idiot," she cracked. "Answer the doorbell: 'What is it? This old thing?' ... I'll come out with a line of metal bikinis for women over 40. If you want dignity, you wear metal bikinis over (age) 40."
Today Show host Ann Curry asked Fisher what sparked her to slim down. Said Fisher: "The spark was that I weighed three million pounds. I couldn't look in the mirror. I thought that was getting old. It turns out it was mostly getting fat."
Fisher also said she's thrilled to be able to find clothing in her size again ("I exhausted the alphabet on bra sizes"), she says there's still something she'll never wear again: sleeveless clothing.
"I think after 50, there's a law," she said.
Watch the video on RadarOnline.com
Fisher is currently on tour with her critically acclaimed one-woman stage show, Wishful Drinking, which hilariously chronicles her life growing up as Eddie Fisher and Debbie Reynolds' child, her various romances, including her marriage to Paul Simon, her struggles with addiction, and being forever labeled as Princess Leia.