Carrie Fisher New Celebrity Spokesperson For Jenny Craig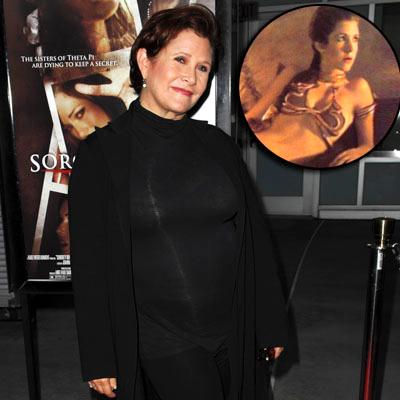 It's been nearly thirty years since Carrie Fisher slipped into that intergalatic, golden teenie-weenie bikini in Stars Wars: Return Of The Jedi, much to the delight of humans and aliens everywhere.
Now, Fisher is looking to get back into fighting shape by becoming the latest celebrity spokesperson for Jenny Craig.
Fisher -- who weighed 105 lbs. while making the Star Wars triology and at her heaviest, ballooned up to 180 lbs. -- says she's struggled with her weight for the past three years, and hopes to lose 30-pounds in 2011. "A day comes when you can no longer face not wanting to leave the house because you don't like the way you look," said Fisher, now 54.
Article continues below advertisement
"A day comes when you want to stop apologizing for it. When you want to make a decision to live the rest of your life in a healthy way." She went on to say, "I haven't been able to enjoy what otherwise is a good part of my life because so much of what's on my mind is about my weight."
Fisher --who stands just 5'1" (and a 1/2") says she's tried numerous diets in the past, but always gained the weight back. "I have been on every diet in the world, and look at me. This is the sum total of what that's amounted to...
"I am more hopeful now than ever, because I have made this commitment, and I have my Jenny Craig consultant supporting me in my journey."
Fisher follows in the footsteps of other Jenny Craig celebrity spokespeople including Valerie Bertinelli, Sara Rue, Nicole Sullivan and Jason Alexander.
Fisher will appear in Jenny Craig's new advertising campaign that launches in February 2011.
RELATED STORIES: