Arnold's Ex-Mistress & Love Child Go Back-To-School Shopping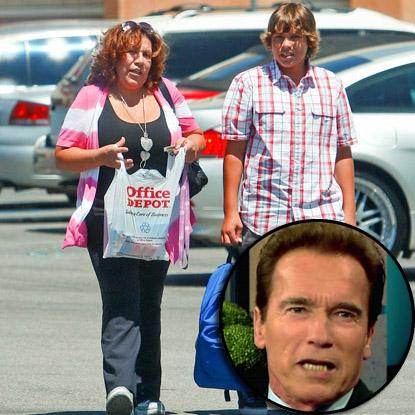 The Kindergarten Cop's kid is going back to school.
Yes, that was Arnold Schwarzenegger's ex- housekeeper/ baby's mother Mildred Baena, and their son Joseph, shopping at an Office Depot in Southern California in this photo just released to RadarOnline.com.
Mildred -- who worked for Schwarzenegger and Maria Shriver at their mansion in the posh Brentwood neighborhood of Los Angeles for 20 years -- wore a pink and white striped shirt for the Saturday shopping trip. Joseph, 13, sported a shaggy 'do reminiscent of his dad's Pumping Iron days. He wore a plaid short sleeve shirt and shorts, carrying a blue backpack.
Article continues below advertisement
As we previously reported, both Baena and Schwarzenegger's estranged wife Maria Shriver were pregnant at the same time with the former California governor's babies.
It was RadarOnline.com and Star magazine's joint investigation that revealed Baena as the mother of the teen son The Terminator star fathered out-of-wedlock.
Schwarzenegger and Shriver are in the process of divorcing.
RELATED STORIES:
Who's That Hunk On The Billboard? It's Arnold & Maria's Kid!
MORE ON:
Arnold Schwarzenegger