Who's That Hunk On The Billboard? It's Arnold & Maria's Kid!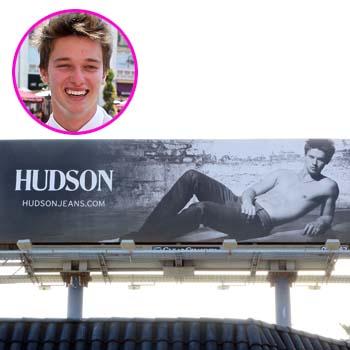 Patrick Schwarzenegger, the hunky 17-year-old son of Arnold Schwarzenegger and Maria Shriver, is grabbing the spotlight in his own rite.
There's now a billboard featuring Patrick -- shirtless -- modeling Hudson jeans.
The billboard is on top of a bar located at a busy intersection of Sunset Boulevard in Hollywood.
Patrick signed this year with L.A. Models, which reportedly has plans to push him for the Ralph Lauren and Armani campaigns.
Article continues below advertisement
The teen has said he's doing it to "inject some capital" into a charity close to his heart, Project360, and to "get comfortable in front of the camera." But modeling "isn't going to be my permanent job. There's a lot of other things I want to do."
Project360 -- founded by Arnold and Maria -- is a philanthropic clothing line which donates 10 percent of all its sales to a variety of causes.
RELATED STORIES:
MORE ON:
Arnold Schwarzenegger