Amy Winehouse's Father Urges Parliament To Open Affordable Rehab Facility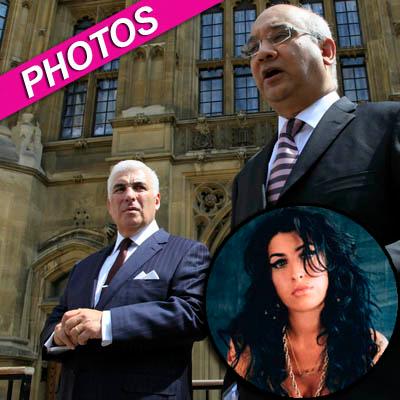 In wake of Amy Winehouse's untimely death, her father and managers went to Westminster Monday to urge politicians to do more for young people struggling with alcohol and drug addiction.
Mitch Winehouse, 60, met with Keith Vaz, chairman of the Home Affairs Select Committee, and Home Office minister James Brokenshire and asked them to support opening a government-funded treatment center for those who cannot afford to be treated at a private facility.
Article continues below advertisement
"This isn't about Amy because we were in a fortunate position of being able to fund Amy to go into private rehab -- this is about people that can't afford it," Winehouse told reporters.
Also accompanying Mitch was recovered addict-turned-addiction specialist Sarah Graham, who told The Guardian, "We didn't know Amy's death was going to happen, but we hope it will show people that addiction is something that can kill people when they are very young and that we should not wait until it is too late.
"Rehabilitation is more expensive than treatment in the community but in reality most desperate young people cannot access it," Graham said. "It might be because their dealer meets them at the school gates or it could be that they are getting abused at home."
Britain's only National Health Service (NHS) rehab center for young people, Middlegate, in Lincolnshire, closed last year, leaving young addicts facing either waits of up to two years for NHS treatment or expensive bills at private clinics.
Article continues below advertisement
"Rather than money being wasted through the criminal justice system, there could be a reallocation of funds," Winehouse said.
"There was one rehab center for juveniles and that's just shut down through lack of funding so we need to look at that. We need to be able to help our children."
In his eulogy at London's Edgwarebury Cemetery last Tuesday, Mitch said he was interested in starting a foundation "to help those struggling with substance abuse."
Member of Parliament Keith Vaz had previously said he'll be "very happy to help Mitch in any way I can with his important campaign to help rehabilitate those most vulnerable in our society."
Amy Winehouse was found dead in her home on July 23 at the age of 27.
Winehouse's autopsy was conducted a week ago, but proved to be inconclusive as to the cause of death. Toxicology results will be available in 1-to-2 weeks. Police called her death "unexplained," adding that speculation about a drug overdose is "inappropriate" in light of the fact that no drugs were found at Winehouse's house upon inspection.