THE WEEK IN PHOTOS: Kate & Will Take Canada By Storm, Casey Anthony Lets Her Hair Down & Much More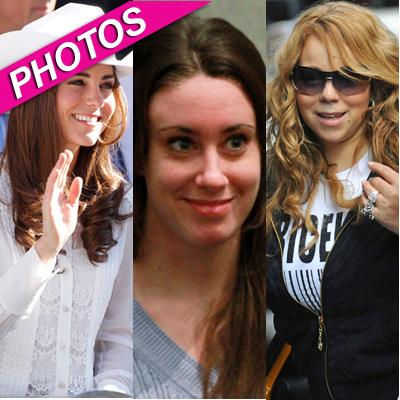 There's never a dull moment in the world of celebrities, scandal and controversy and what better way to see what happened this week than through photos on RadarOnline.com.
The murder trial of Casey Anthony dominated the week's news as she was shockingly found 'not guilty' of killing her two-year-old daughter. But it wasn't just the verdict that left people open mouthed. After months of tears, fears and courtroom breakdowns, she let her hair down, quite literally!
Article continues below advertisement
The Duke and Duchess of Cambridge arrived with a bang in Canada enjoying July 4th celebrations. All eyes were on Kate's impeccable style as she was branded the 'Duchess of Denim' after wearing her favorite pair of J Brand skinny jeans three days in a row. Hollywood glamor is next as the pair touched down in Tinsletown.
Freeze! Megan Fox took to Twitter to prove she hasn't had Botox, posting a picture of her wrinkled brow. Let's see if she posts another one in three months time.
Talk about smokey bacon! Holly Madison called herself a pig, but her sizzling bikini photo shoot was animalistic in a whole other way. The former Playboy star revealed all her diet tricks and showed off the results of her 10 lb. weight loss in stunning two-piece.
News of the World closed after 168 years in one of the most shocking stories in media history. Renowned for breaking some of the UK's biggest stories, the British newspaper announced, amid a phone hacking scandal, that this Sunday will be it's last edition.
Article continues below advertisement
It was double trouble for Mariah Carey as she made her first appearance as a mom. The singer, looking every inch the diva as she hid behind a pair of dark glasses, was snapped arriving at her swanky Manhattan apartment. She has not been seen out and about since the arrival of her twins, Moroccan Scott and Monroe.
It was a teary farewell to Harry Potter as the premiere for the final film took place in London. Emma Watson looked stunning in an Oscar de la Renta gown, but broke her smile as she burst into tears, as did Potter creator J.K Rowling. Daniel Radcliffe and Rupert Grint consoled their co-star.
Article continues below advertisement
Ben Affleck has a hole in his pocket after Star magazine made revealed he'd racked up a whopping $400,000 gambling debt in an underground poker game. Who did he lose the money to? Universal Pictures head Ronald Meyer.
Nothing new here, but LeAnn Rimes showed off her tiny body in yet another itsy bitsy bikini at the beginning of the week and ended it in one of her favorite pairs of barely there shorts.