Ben Affleck Puts Poker Scandal Aside And Celebrates 4th Of July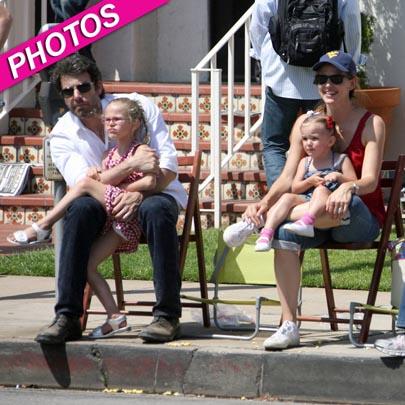 By Cliff Renfrew - Radar Reporter
Ben Affleck put on his best poker face as he celebrated the 4th of July with his wife Jennifer Garner and their two beautiful daughters.
The Town star, who's been linked to the mega-millions illegal gambling ring run by Brad Ruderman, put on a patriotic show with his family as they watched a parade in Pacific Palisades, California on Monday.
Ben, 38, tenderly kissed Jen, 39, on the hand as the two stars took care of beautiful daughters Violet and Seraphina.
Article continues below advertisement
The adorable sisters waved American flags as they watched the parade with their famous parents while wearing patriotic red, white and blue outfits, to capture the spirit of the day.
Mom Jen joined in the theme by wearing a red top, cut-off jeans and white sneakers, as the whole family enjoyed the holiday celebrations.
Ben – who ported a shaggy beard and wore a white shirt, jeans and boots -- looked more serious at times as he sat on chair and tended to his daughters.
Article continues below advertisement
But although Affleck enjoyed some family-time over the holiday weekend, he will soon be separated from them once again.
He is set to direct Argo, a film about the CIA working with Hollywood film makers to help free hostages in Iran.
The actor/director has been spotted in Turkey scouting-out locations for the film while his beautiful wife has put her film career on hiatus as she raises their two daughters.