Exclusive
Man Indicted For Spiking Yogurt Sample With Semen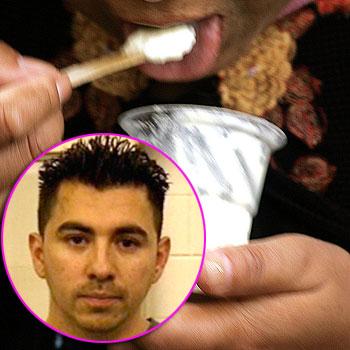 By Amber Goodhand - RadarOnline.com Staff Reporter
Forget the fruit at the bottom, how about some semen in your yogurt?
An Albuquerque, New Mexico, grocery clerk was indicted on Wednesday for allegedly spiking a yogurt sample with his own semen that he then gave to a female shopper.
In the police report obtained by The Smoking Gun, the female shopper said 32-year-old Anthony Garcia offered her the yogurt sample, which upon tasting she said was "gross and disgusting" and "said it tasted like 'semen.'"
Article continues below advertisement
Garcia had a two-count indictment filed against him in the U.S. District Court in Albuquerque on July 13 for the semen incident and lying to federal agents about it.
After being investigated by police it was turned over to federal officials who then got a search warrant that authorized DNA samples from Garcia, which matched a sample of the semen found in the victim's yogurt.
The unsavory incident occurred on January 25, 2011 and if convicted, Garcia faces up to five years in prison.