Exclusive
Hacking Whistle Blower Sean Hoare's Sudden Death Ruled 'Non-Suspicious'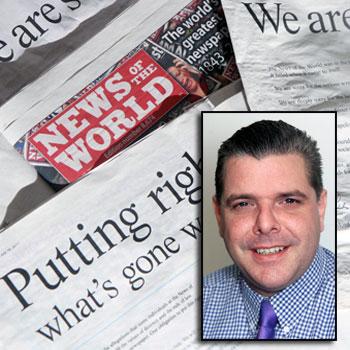 By Cliff Renfrew - Radar Staff Reporter
Post Mortem results on phone hacking 'whistle blower' reporter Sean Hoare have revealed that 'no third party' was involved in his death.
The former News Of The World journalist stoked the massive scandal after he revealed to the New York Times that his former editor Andy Coulson encouraged the practice.
Hoare, 47, was then mysteriously found dead at his home in Watford, England, on Monday.
Article continues below advertisement
British detectives probing his death now hope that toxicology tests will reveal his actual cause of death.
Examinations on the body confirmed the death as "non-suspicious" a Hertfordshire police spokesman confirmed Tuesday – the toxicology tests could take several weeks.
Neighbors of the former high-flying tabloid reporter claimed that he was "paranoid" in recent weeks and had been unwell too.
"After his revealing interview with the New York Times Hoare went on the BBC Radio 4's PM programme explaining that the phone hacking practices were "endemic."
Hoare, who worked on The Sun newspaper before being recruited by Coulson to work on the NOTW, said: "Coulson was well aware that the practice exists. To deny it is a lie, simply a lie."
Mr Coulson denies the allegation. Rupert Murdoch, his son James, and former NOTW editor Rebekah Brooks were grilled Tuesday about phone hacking by a British parliamentary committee.
RELATED STORIES: