Baseball Fan Falls 20 Feet To His Death After Lunging For Souvenir Ball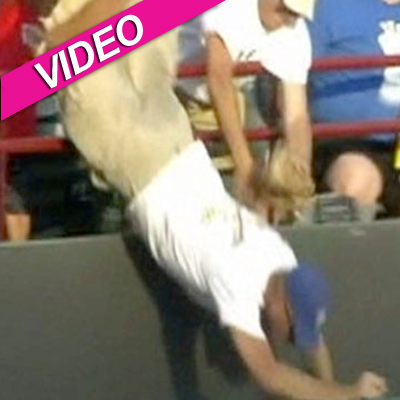 By Adam S. Levy - RadarOnline.com Staff Writer
Tragedy struck in Arlington, Texas on Thursday, where a firefighter who brought his son to the Rangers-A's game fell to his death while reaching for a ball tossed at him by American League MVP Josh Hamilton.
Here's how the sad series of events unfolded: Oakland infielder Conor Jackson hit a foul ball towards left field that the All-Star slugger Hamilton picked up and tossed toward fans in the stands, a common practice among players. The man caught the ball, but lost his balance, falling over a railing about 20 feet onto concrete.
Article continues below advertisement
Watch the video on RadarOnline.com (Warning: video is disturbing).
The fan has been identified as Shannon Stone, 39, of Brownwood, Texas. Stone had been a firefighter for 18 years, local officials said.
"He went straight down," fan Ronnie Hargis, who was sitting next to Stone, told the AP. "I tried to grab him, but I couldn't. I tried to slow him down a little bit."
A's pitcher Brad Ziegler said following the fall, the still-conscious Stone, while on a stretcher, was telling others in attendance to make sure his young son was cared for as he was carted off.
"He had his arms swinging," Ziegler said. "He talked and was conscious. We assumed he was OK.
"But when you find out he's not, it's just tough."
While Stone was conscious after the fall, he "went into full arrest" during his ambulance ride to the hospital, according to Arlington Fire Department authorities, and died at a Fort Worth hospital less than an hour later.
"We had a very tragic accident tonight and one of our fans lost their life reaching over the rail trying to get a ball," Rangers president Nolan Ryan told reporters following the game. "As an organization, and as our team members and our staff, we're very heavy-hearted about this, and our thoughts and prayers go out to the family."
Article continues below advertisement