Exclusive
Peter Falk Leaves Bulk Of His Estate To Devoted Wife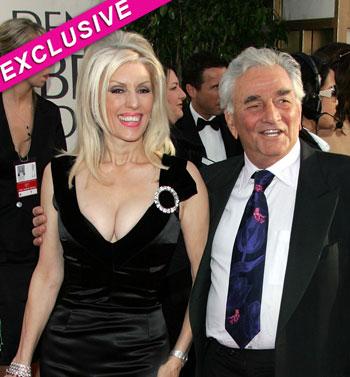 By Jen Heger - RadarOnline.com Legal Editor
Peter Falk set up a trust years before he was formally diagnosed with Alzheimers disease, and the bulk of his multi-million dollar estate is being left to his devoted loving wife of more than thirty three years, RadarOnline.com is exclusively reporting.
The Columbo star passed away at his home in Beverly Hills on Thursday night, and his wife was at his side when he died.
Article continues below advertisement
Falk's estate is estimated to be worth around five million dollars, a source close to the situation tells us. "Peter left the bulk of his estate to Shera. The house that the two of them lived in together, art work, investment accounts, and more have been left to Shera. Peter also left an estimated six figure inheritance to his two adopted daughters from his first marriage.
"Peter's daughter Catherine had a very strained relationship with her stepmother, Shera for years, and tried to get conservatorship of Peter several years ago. Peter's relationship with Catherine was non-existent for years. The judge flatly denied that request because Shera proved beyond a shadow of a doubt that she was providing excellent care of her husband at home. Catherine was granted very limited visitation to her father because the visits proved to be very upsetting to Peter at the time because of his Alzheimers disease.
"Catherine was allowed to see him once a month, at a neutral location, with a family friend present," the source reveals. Peter's relationship with his other daughter Jackie was a strong and loving relationship however.
Peter Falk – Through The Years
"Peter anticipated that one of his heirs, especially his daughter Catherine might try and contest the contents of the trust and will, and underwent the appropriate measures to protect the trust. There is a clause in the trust that states if any of his heirs contests anything, they will automatically lose their stake in the estate."
Article continues below advertisement