Prince William & Kate Party With David Beckham In L.A.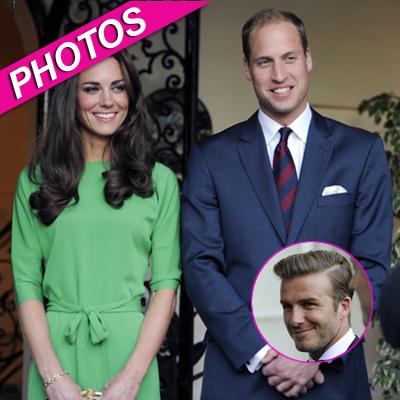 Prince William and Kate were feted at a reception in Los Angeles Friday night, it was a party that included David Beckham.
The low-key event was hosted by the British Ambassador to the U.S. Nigel Sheinwald, and took place at the home of the British Counsel General in L.A.'s Hancock Park neighborhood.
Kate, introduced by her official title, the Duchess of Cambridge, was stunning as usual in a soft green dress.
Article continues below advertisement
The guest list was a who's who of Brit diplomats and business people in the U.S. and included one very famous soccer player, David Beckham.
Beckham and William are old friends, and even lobbied together -- unsuccessfully -- to get the 2018 World Cup for Great Britain -- found time to catch up.
Beckham's wife, Victoria, is due their fourth child, and first girl, any day.