Exclusive
Forget Weinergate! Sausage Scandal Chow Down Champ Tells All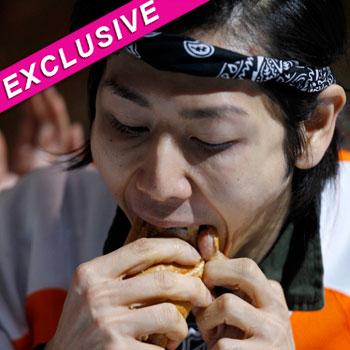 Japan's Takeru Kobayashi certainly knows how to celebrate Independence Day!
The controversial six-time hot dog eating world champion will take on Nathan's Famous International Hot Dog Contestants via Satellite TV this July 4, from 230-Fifth, a rooftop garden and lounge in New York City.
The event will be in direct opposition to Major League Eating, the governing body of speed eating related sports that banned Kobayashi last year from Nathan's competition and even removed his name from the Coney Island Wall Of Fame!
Article continues below advertisement
The renegade eater stormed the competition anyway and was arrested and later charged with trespassing, resisting arrest, and obstructing governmental administration. But a ban cannot stop this top athlete from competing.
This year, Kobayashi will buck the system and compete next to a giant plasma TV showing the live ESPN broadcast of the weiner-off. Fans can still watch Kobayashi chow down along side rival Joey Chestnut, current holder of the Yellow Mustard International Belt, even though the competitors will be seven miles away. No doubt the feeding frenzy will be a media frenzy as well, as many news outlets will be covering the event.
Despite being deep into his training schedule Kobayashi took some time out to talk exclusively to RadarOnline.com, spilling all on the sport and his well publicized troubles with Nathan's.
RadarOnline.com: How did you get started in this business/sport?
Kobayashi: My friend and I were eating at a local curry fast food franchise and there was a sign outside that said "If you can eat this much, you can have it for free." I won and I ate more than the guy who was the current champion, so my friend called a television show that was having an eating contest and entered me. I did the contest on air and won and all of a sudden I was a local celebrity.
Article continues below advertisement
RO: What did you eat on the show?
K: It was like a marathon, so we started off with pizza, then it went to sushi, then it went into ramen noodles.
RO: Why is it that so many of the people who win these contests are so thin?
K: Well, I'm not sure if this applies to everyone, but I think that if you're in good shape, your body is going to be able to tolerate the event more. It's quite physically strenuous. That's not to say that heavy people can't win, it's just a theory.
RO: How do you prepare for contests?
K: Two months prior I start drinking lots of water and I gradually increase the amount every day to expand my stomach lining. Then the week before, I add in whatever food I will be competing with. I exercise to make sure that fat doesn't impede my stomach from expanding.
RO: Why were you banned from Nathan's contest?
K: I wasn't banned, but they gave me a contract that was so binding that there was no way I could have signed it. It wouldn't let me compete in other eating competitions and that's how I make money.
Article continues below advertisement
RO: So this is how you make your living?
K: Yes, I travel around and do speeches; half time shows and make public appearances.
RO: Do you have groupies.
K: Yes, one time I was at 230-Fifth in New York and this girl went crazy! She was physically fighting with her friends to get to me and my manager tried to fend her off, and the girl choked my manager! Finally a security guard got her in a cab.
RO: How do you deal with nausea when competing?
K: I very rarely get nauseous, and if I do it's because there's something else wrong with me -- like flu or something. The only time I almost threw-up it was because I ate too many cow brains, but I didn't throw up.
RO: How will you celebrate if you win?
K: I'll celebrate either way because I'll know I did a really good job. The industry has changed since I came on board. People used to think it was just a fun thing but now more people are starting to think of it as a sport.
Article continues below advertisement
RO: Are there any tricks that you employ to help give you a winner's edge?
K: No. I don't use tricks. I don't believe in them, but I do have techniques. I split the hot dogs in half, then I dip them in water, Sprite, or 7-Up.
Kobayashi is also known for his body wiggle, referred to by some as the "Kobayashi Shake", which allows the slender athlete to force hot dogs down his throat and settle more compactly in his stomach.