EXCLUSIVE: Justin Bieber Is A Tequila Lover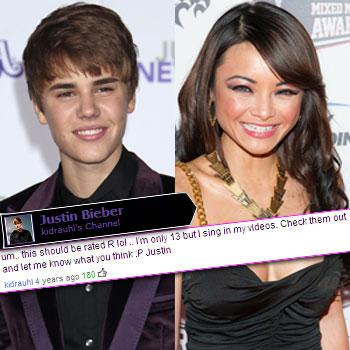 Was Justin Bieber singing "baby, baby, baby" to Tila Tequila.
RadarOnline.com has exclusively discovered that the Canadian heartthrob has been a fan of Tila's since his pubescent years. As early as 13 years old, he started leaving comments on her YouTube videos!
"um.. this should be rated R lol," Bieber commented four years ago on Tila's official I Love U music video.
Obviously trying to win over Tila's online fans, he added: "I'm only 13 but I sing in my videos. Check them out and let me know what you think :P Justin."
Article continues below advertisement
The comment was left under the username kidrauhl, which links directly to Bieber's official YouTube channel.
Tila, meanwhile, seems to be taken by the singer of Never Say Never.
RADAR EXCLUSIVE VIDEO: Behind The Scenes Of Tila Tequila's New Music Video
"He is absolutely adorable… I can now see why so many girls have fallen head over heels in love with him," Tila said.
"Justin, if you're reading this: I want to pinch your cute little cheeks! You're doing great out there kiddo…don't let anyone bring you down!"