Maid In Dominique Strauss-Kahn Sexual Assault Case Breaks Her Silence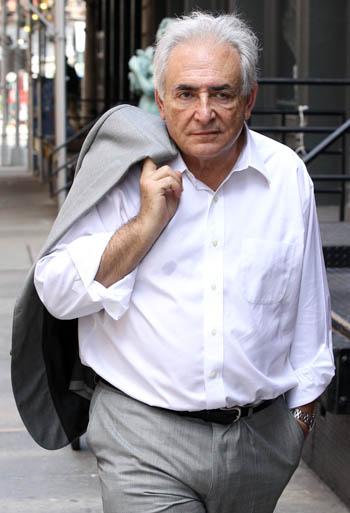 Nafissatou Diallo, the hotel maid who accused Dominique Strauss-Kahn of sexually assaulting her, has finally spoken out.
Diallo, 32, a native of Guinea, has accused Strauss-Kahn of a vicious attack inside his Presidential suite at New York's Sofitel hotel on May 14.
In an exclusive interview with Newsweek, Diallo spared no details in describing being forced to orally copulate the former director of the International Monetary Fund. She said he also grabbed her crotch with such force, she was still red hours later at the hospital, something her medical records support.
Article continues below advertisement
Dominique Strauss-Kahn's Mug Shot
Diallo called Strauss-Kahn a "crazed man." She said she begged him to stop and tried to fight him off before finally escaping after about 15 minutes.
Strauss-Kahn has said he had consensual sex with Diallo. He is not permitted to leave New York City and has had to surrender his passport while the investigation continues.
The case hasn't been easy for prosecutors once they discovered lies in the alleged victim's background. She claimed two children instead of one on her taxes in order to get an additional deduction. She also exaggerated the story of her life in Guinea in her 2003 application for political asylum in the U.S. Ironically, her real story -- she was the victim of genital mutilation and rape -- probably would have won her political asylum without any embellishments.
Diallo's credibility was also seriously called into question by two New York Post articles quoting anonymous sources who said she was a prostitute. Diallo filed a defamation suit against the newspaper on July 5.
Diallo has never backed down or away from her account of what she says happened in room 2806 that day.
"Because of him, they call me a prostitute," she told Newsweek. "I want him to go to jail."