LIVE STREAM: Betty Ford's Funeral In California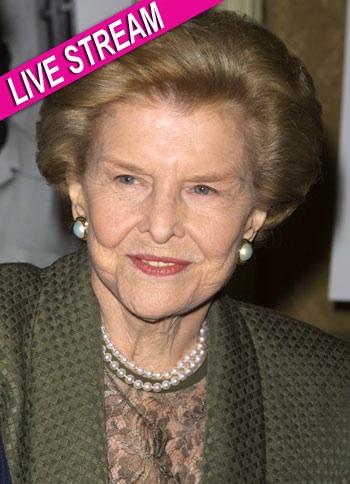 We're live streaming the funeral for former first lady Betty Ford, who died at 93 on Friday.
As we reported earlier, the service is taking place at Palm Desert, California's St. Margaret's Episcopal Church.
Those attending include: First Lady Michelle Obama; former U.S. president George W. Bush; Kennedy family member/former California first lady Maria Shriver; three ex-first ladies -- Secretary of State Hillary Rodham Clinton, Nancy Reagan and Rosalynn Carter. (Former first lady Laura Bush is not able to attend, but sent her condolences through her husband, while Barbara Bush will attend a separate service slated for later this week.)
Article continues below advertisement
Former President Bill Clinton will be unable to attend the funeral after his plane was unable to take off due to mechanical problems.
Clinton was to fly from New York to Washington to meet his wife and fly with her to the service, the Associated Press reported. Spokesman Matt McKenna told the AP that the Clintons spoke by telephone and agreed that she should fly to the service without him rather than risk arriving late.