Lindsay Lohan Parties With The Hilton Sisters And Brandon Davis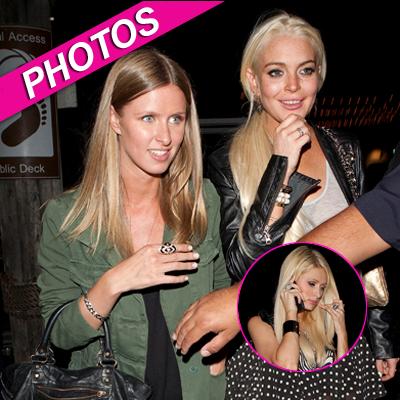 Lindsay Lohan hit the party scene -- again -- last night -- and RadarOnline.com has all the details.
Lohan, Nicky Hilton, and Lindsay's old nemesis Brandon Davis, started the night over dinner at Galdstones restaurant.
The threesome arrived at the Pacific Palisades eatery by limousine, escorted by bodyguards.
Nicky is newly single. It was confirmed on Friday that she and long-time boyfriend David Katzenberg have split.
Article continues below advertisement
Davis and Lohan were once the bitterest of enemies, thanks to his infamous "firecrotch" rant against her, and just three months ago he was busted for battery and possession of a controlled substance.
On June 28, he pled guilty to felony possession of cocaine and no contest to the misdemeanor battery charge, with the judge ordering him into a drug diversion program.
Lindsay, of course, is still on probation for her theft and DUI convictions, and just over a week ago, no-nonsense Judge Stephanie Sautner read her the riot act about how little headway she's made in completing her community service and counseling.
Lohan is not subject to alcohol and drug testing during her probation, however, and there are no restrictions on who she can associate with.
The odd trio caused a frenzy at the restaurant, and was surrounded by fans as they left and piled back into their limo.
Next stop? Paris Hilton's summer crash pad, just two miles up Pacific Coast Highway in Malibu.
Party on!
RELATED STORIES:
Gotti Producer Fires Back At Joe Pesci - Calls Lawsuit 'Total Joke'