Exclusive
Lindsay Lohan Pleads Poverty - Claims She Can't Afford Psychological Counseling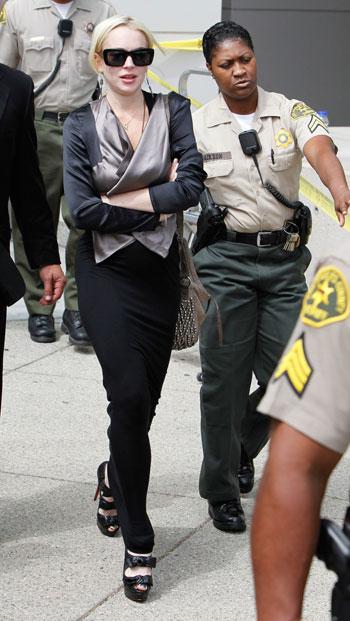 Lindsay Lohan appeared before a judge in Los Angeles Thursday morning and despite flashing a beautiful pair of $1,200 shoes, pleaded poverty - claiming she has been unable to start psychological counseling as her insurance has lapsed and she can't afford it.
The 25-year-old was in court for a previously scheduled progress report hearing related to her probation stemming from the theft of a necklace from a Venice Beach jewelry store.
Article continues below advertisement
During the hearing Judge Stephanie Sautner acknowledged that Lindsay was in compliance with most of what was ordered of her at her last court date including the actress doing community service and a shoplifters alternative course.
But what Lindsay had not yet started was her psychological counseling which her lawyer Shawn Holley informed the court was because her hard-up client could not afford it.
This despite the 25-year-old actress arriving in court in $1,200 Christian Louboutin heels and renting a multi-million dollar home in Venice.
Holley said that because Lindsay's SAG insurance had lapsed, she could not afford to pay for one-on-one counseling and that group counseling was out of the question for fear that others would sell her out to the media.
Someone off camera, thought to be Los Angeles City Attorney Melanie Chavira, said that she found it hard to believe that the Hollywood star could not afford to pay for counselling.
Although Judge Sautner agreed she did not want Lindsay in group counselling and wanted her to "get the most out of" therapy in a one-on-one setting, she gave her 21 days to somehow find a therapist and if she did not have the means then to find someone who did.
Article continues below advertisement
She asked Lindsay if she had anyone who had a credit card who would be able to stump up the cash for her court-mandated sessions. Lindsay consulted with her lawyer who then told the Judge that it "would not be a problem" for her to get the money together.
Judge Sautner gave Lindsay 21-days to start the psychological counseling which was mandated as part of her probation.
She said if Lindsay does not provide proof by August 11 that she has started individual counseling, she would revoke her probation. The judge said Lindsay's team could fax her proof and that they did not have to appear in court in person at that time.
The judge asked Lindsay is she was clear on the requirement for psych counseling to which Lindsay replied: "Yes, your honor."
Judge Sautner noted that while Lindsay is not in violation of her probation, she has only completed four days of her mandatory community service and she warned Lindsay that she must complete the service within the time frame she was given.
Holley said that Lindsay understands she must complete the community service within a year, and that she cannot use the excuse that she's is shooting a movie to not complete it.
Article continues below advertisement
Lindsay has completed just 33 hours out of her required 480 hours which Judge Sautner says she must complete within the next 12 months.
"I'm not going to give her five minutes extra. I don't want to hear 'Oh I couldn't do it because I was on the set of the John Gotti movie,'" Judge Sautner said.
Holley also said she has completed one session in a shoplifting course, but acknowledged that she still has three more sessions to attend.
Holley also noted that Lindsay has paid all of her fines, as mandated as part of the terms of her probation.
The judge set the next hearing for October 19 and said at that time, she wants Lindsay to have completed her shoplifting courses and she wants to see progress both on Lindsay undergoing psychological testing and progress on community service.
Speaking to Lindsay, the judge said "get back to community service, and your life will be in order."