Kat Von D Gets Some Retail Therapy After Splitting With Jesse James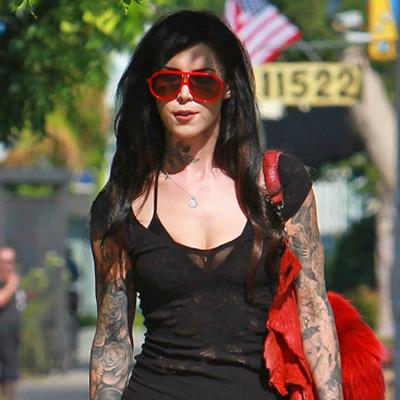 Less than a week after announcing her split from Jesse James, Kat Von D did what most girls do after a break up - indulged in a little retail therapy!
The LA INK star, 29, spent Friday afternoon browsing for new furniture with a female friend in Los Angeles.
Kat looked glum as she strolled down the street in a pair of floral print leggings and a see-through black tank top.
On Wednesday, the reality star was deemed "unprofessional" by show producers after she stormed off the set of FOX breakfast show Good Day LA after hearing the anchor talk about her split from Jesse as she was being introduced.
Article continues below advertisement
Kat had gone on the show to promote the new season of her TLC reality show, but when a clip was played of her revealing a new tattoo of Jesse, she fled the set with no explanation before her interview even began.
"I think it was unprofessional on her part," a producer on the show told RadarOnline.com. "I don't know what she expected."
Kat and Jesse, 42, called off their six month engagement with the tattoo artist announcing the split via Twitter.